New York — Now that Katie Couric is making the move from dawn to dusk, her legacy - and the future of CBS News - depends on the audience. And according to a new poll, that audience prefers to see her in the morning.
When asked whether they would rather see Couric in her longtime role as "Today" host or as the first woman to anchor a network weekday evening newscast on her own, 49 percent favored the morning and 29 percent said evening, according to a poll conducted this week by The Associated Press and TV Guide.
After 15 years as morning television's queen, Couric confirmed Wednesday that she is leaving NBC's "Today" show to become anchor and managing editor of the "CBS Evening News" this fall. Her audience at "Today" is about 6 million viewers; "CBS Evening News" has about 7.5 million.
The woman who dressed in Marilyn Monroe and SpongeBob SquarePants outfits on Halloween and gave viewers a tour of her colon will take the position once held by the iconic Walter Cronkite and the ousted Dan Rather.
But claims that Couric lacks the "gravitas" for the job are "thinly disguised sexism," said news consultant Andrew Tyndall.
Few questioned Tom Brokaw when he switched from a "Today" host in the 1970s to become NBC top anchor. At ABC, Charles Gibson frequently did the morning and evening newscasts on the same day this past year during the late Peter Jennings' illness.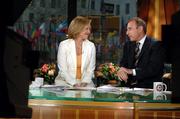 "I think her strengths" - three hours a day of live broadcasting covering a wide swath of topics - "will evolve and magnify to fit the task," said Frank Sesno, a journalism professor at George Mason University and special CNN correspondent.
"Sometimes I think change is a good thing," Couric said on "Today." "Although it may be terrifying to get out of your comfort zone, it's very exciting to start a new chapter in your life."
NBC was moving swiftly to replace her. "The View" co-host Meredith Vieira, a former "60 Minutes" correspondent, was close Wednesday to accepting NBC's offer to join Matt Lauer on "Today" starting this fall, according to a person familiar with the negotiations who spoke on condition of anonymity because a deal had not been completed.
Couric, 49, grew up in journalism backstage at CNN, then joined NBC as a Pentagon reporter in 1989. In April 1991, she was installed next to Bryant Gumbel to wipe away the stain of Deborah Norville's disastrously brief tenure.
It was a master stroke that earned hundreds of millions for NBC and its parent, General Electric Corp. Couric, paired with Lauer since 1997, will leave next month as the longest-serving "Today" host in the show's 54-year history. The show is in the 11th year of an unprecedented ratings winning streak.
Couric is expected to stay at "Today" until the end of May. She will debut on the "CBS Evening News" in September.
Copyright 2018 The Associated Press. All rights reserved. This material may not be published, broadcast, rewritten or redistributed. We strive to uphold our values for every story published.