Baghdad, Iraq — A U.S. military helicopter crashed Saturday during a "combat air patrol" southwest of Baghdad, but the status of the crew was unknown, according to the American command.
Meanwhile, pressure mounted on Prime Minister Ibrahim al-Jaafari to step aside as the Shiite bloc's nominee for a second term, with some fellow Shiites urging him to withdraw to break the deadlock over a new government amid increasing sectarian violence.
A U.S. statement said the helicopter went down about 5:30 p.m. during a combat patrol southwest of the capital but gave no further details, except to say the fate of the crew was unknown. The statement did not identify the type of helicopter.
It was the first loss of a U.S. helicopter since three of them crashed in a 10-day period in January, killing a total of 18 American military personnel. At least two of the helicopters were shot down.
The U.S. command also said a Marine was killed Friday during combat operations in Anbar province west of the capital. The Marine's death brought to at least 2,328 the number of members of the U.S. military who have died since the Iraq war started in March 2003, according to an Associated Press count.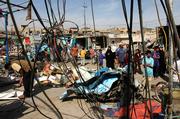 The violence came as U.S. officials expressed increasing impatience with the slow pace of government talks following the Dec. 15 elections.
U.S. Ambassador Zalmay Khalilzad urged the Iraqis to speed up the process to prevent the country from sliding into civil war.
"The terrorists are seeking to provoke sectarian war, and Iraq needs a government of national unity in the face of this threat," Khalilzad said in a statement released Saturday.
"This government needs to have a good program to govern from the center, and needs good ministers who are competent. Iraq is bleeding while they are moving at a very slow pace," he added.
At least 22 people were killed Saturday in fresh violence in Baghdad and Basra, Iraq's two largest cities. Six others - all Shiite men - died Friday evening when gunmen opened fire on a minibus near Balad Ruz, 45 miles northeast of Baghdad, said the town's mayor, Mohammed Maarouf.
U.S. officials believe formation of a government of national unity would be a major step toward calming the insurgency and restoring order three years after the U.S.-led invasion toppled Saddam Hussein. That would enable the U.S. and its coalition partners to begin withdrawing troops.
But talks among Iraqi political leaders have bogged down, prompting Sunni Arab and Kurdish politicians to call for al-Jaafari's replacement. The Shiites get first crack at the prime minister's job because they are the largest bloc in parliament.
Copyright 2018 The Associated Press. All rights reserved. This material may not be published, broadcast, rewritten or redistributed. We strive to uphold our values for every story published.