Tom Keegan doesn't claim to have any personal expertise in playing first base.
"I was not a good baseball player," Keegan says. "I played second base and catcher. The first baseman bailed me out a lot."
That's why Keegan consulted some of the game's best first basemen to write his new book, titled, appropriately enough, "The First Baseman."
The book, the latest in an Emmis Books series about the nine baseball positions, encompasses everything from the technical aspects of playing first base to the conversations players have with opponent base runners. It also includes stats and a timeline of memorable events involving first basemen.
Keegan, the Journal-World's sports editor, relied on conversations with ballplayers and coaches, including Keith Hernandez, Don Mattingly, Mike Scioscia and Lou Piniella.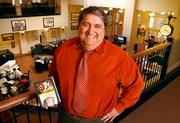 Keegan says his 18 years covering major league baseball, including more than seven years at the New York Post, helped him make connections with the players.
"I didn't have anybody who blew me off," Keegan says. "What I've found is in a major league clubhouse, if players see you talking with someone familiarly, they'll be familiar, too. If you walk in cold, everybody's going to stiff you."
A centerpiece of the book is a day Keegan spent with Sean Casey, the Cincinnati Reds' All-Star first baseman. It includes Casey playing with his children in the morning, his gameday routine and detailed recreations of the conversations he had on the field.
"He gave me total access," Keegan says. "He let me hang out with him. He was real cool about it. He really got into it."
Book signing
Who: Journal-World sports editor Tom Keegan, signing copies of "The First Baseman" (Emmis Books, $14.95) When: 2 p.m. April 29 Where: Borders, 700 N.H.
Keegan says he especially enjoyed learning the technical reasons why left-handed players are better suited to playing first base than their right-handed counterparts.
This is Keegan's third book. He previously wrote a biography of Detroit Tigers announcer Ernie Harwell and co-wrote the autobiography of Elden Auker, a three-sport standout at Kansas State University and major league pitcher in the 1930s.
Keegan says the key to making his newest book work was asking questions ballplayers didn't typically hear from reporters.
"Once you get these guys who really love the game talking about baseball," he says, "you can't shut them up."
Copyright 2018 The Lawrence Journal-World. All rights reserved. This material may not be published, broadcast, rewritten or redistributed. We strive to uphold our values for every story published.