In a market filled with a relative oversupply of available homes and builders lamenting a shrinking supply of available lots, a new market sector is making itself available to buyers seeking individual ownership in a communal setting:
Condos.
The opening of the Hobbs Taylor Lofts, a more than $12 million project led by Bo Harris in downtown Lawrence, has helped feed an emerging market for high-end condominiums in town.
Developers Jes Santaularia and Karl Capps are preparing to break ground on an even larger project, Bella Sera at the Preserve, across Bob Billings Parkway from Brandon Woods Retirement Community. The project, estimated to cost more than $50 million, is marketing units that will sell from the low $300,000s to more than $1 million.
Smaller operators also are getting into the mix.
Robert Wilson, who has been acquiring and remodeling homes in the Kansas City area for 25 years, bought a building next door to Teller's restaurant and set out to restore its late 1800s-era residence upstairs into a historically sensitive modern home, complete with stainless-steel appliances, three full bathrooms and urban atmosphere.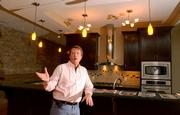 And you can own the place for $510,000.
"It's the 5-percenters who are going to want this," Wilson said of the property being marketed as a condo. "They've already made their money; there won't be a mortgage on this place. This is their third or fourth home."
The market is emerging in Lawrence after surging in recent years in resort communities and other warm-weather areas of Florida, California, Arizona and elsewhere. Tax law changes allowed homeowners to sell their primary residences and use the capital gains - tax free - to buy a smaller home, then put money toward a condo or vacation home elsewhere.
While the condo market is reaching or surpassing the saturation point in some areas - the National Association of Realtors reported that prices dropped in Virginia Beach, Va., and several other area late last year - the Lawrence market is just getting started.
"What is happening here is being very well-received," said Rob Hulse, president of the Lawrence Board of Realtors and a Realtor with Stephens Real Estate, the agency handling the Hobbs Taylor Lofts downtown. "There's certainly some limits to what can happen, and you can't do too much of it, but it's not going away."
All but one of the 32 condos at Hobbs Taylor have been sold, and the watchful developers of Bella Sera certainly are counting on the momentum continuing to build.
Moving into Bella Sera - with its community pool, fitness center, bocce courts, bicycle and wine storage, catering kitchen, library and other amenities - won't be cheap, and that's by design.
"The buyer for this product is not looking to purchase a product based simply on cost. They're looking for a lifestyle," Capps said. "You're going to pay a premium to live in a project like this."
Phil Harrison is comfortable with the arrangement. He and his wife, Beth, already own two condos elsewhere: one on the beach in Naples, Fla., and another at The Harbour on Lake Maxinkuckee in Indiana, where owners include John Zeglis, retired CEO and chairman of AT&T; Wireless, and George Steinbrenner, owner of New York Yankees.
The Harrisons recently bought a unit at Bella Sera and are looking forward to the day they can sell their home of 28 years on St. Andrews Drive.
"I've been taking care of a yard full of chiggers for a long time," said Phil Harrison, former president and managing broker for Gill Real Estate and Insurance in Lawrence. "By pooling our ownership with other people, we can have a fancier exercise facility and a bigger pool, and we don't have to worry about taking care of it."
Copyright 2018 The Lawrence Journal-World. All rights reserved. This material may not be published, broadcast, rewritten or redistributed. We strive to uphold our values for every story published.