Washington — When a grieving mother started a grass-roots organization in 1980, alcohol mixed with driving was killing more than 70 people a day but receiving little national attention.
Mothers Against Drunk Driving made it personal. Focusing on the stories of victims and their families, MADD quickly spread into more than 300 communities, helped persuade Congress to raise the drinking age and ended up getting the term "designated driver" into the dictionary.
"Twenty-five years ago, drunk driving was the last socially acceptable form of murder in America," said MADD president Glynn Birch, the organization's first male president. "And those pioneers of MADD set out to change that."
The advocacy group celebrated 25 years on Thursday with a rally on Capitol Hill, claiming to have helped save 300,000 lives. It said it aims to keep cutting the number of drunken driving deaths and will form stronger alliances with law enforcement and push for higher seat belt use.
Still, the organization says it's fighting a feeling among Americans that the issue is no longer so important.
"The nation has become complacent," said Birch, who became involved with the group in 1988 when his 21-month-old son was killed by a drunken driver. "Back in the early '80s we had this grass-roots organization that was flaring up. This was a voice that you had to listen to."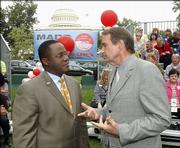 In an era in which terrorism, natural disasters and diseases such as AIDS receive considerable attention, Birch said, "there are so many different things out there that we are in competition with."
The organization notes that the number of drunken driving deaths has made little downward movement in recent years. About 45 people are killed and nearly 700 are injured daily because of drunken drivers.
With a $53 million annual budget, MADD is a nonprofit funded by individual contributions, government grants and corporate sponsors.
Broadening its agenda, the organization has targeted underage drinking and lobbied for stronger seat belt laws and the use of sobriety checkpoints.
When Congress worked on a new federal transportation bill this year, MADD sought ways to encourage states to pass laws targeting repeat offenders and drivers with blood-alcohol levels of 0.15 percent, or about twice the legal limit.
Poll data released by the group Thursday said 60 percent of respondents had operated a vehicle under the influence of alcohol or close to being under the influence. The poll, among 926 licensed drivers between July 26 and Aug. 14 by the Gallup Organization, had a margin of error of 3 percentage points.
Copyright 2018 The Associated Press. All rights reserved. This material may not be published, broadcast, rewritten or redistributed. We strive to uphold our values for every story published.