Baghdad, Iraq — A female suicide bomber disguised in traditional male robes killed seven people and wounded at least 35 when she detonated explosives outside a police recruitment center in the troubled northwestern city of Tal Afar on Wednesday, according to Iraqi authorities.
The bomber was believed to be the first female to carry out a deadly suicide attack in Iraq since U.S.-led troops ousted Iraq President Saddam Hussein in April 2003, and locals met the news with a weary sense of inevitability brought on by the continuing insurgent violence.
"I am not surprised to hear this news," said Abed Hazzem, a police officer in Baghdad. "We are on the lookout for anything. They've used dogs, donkeys, poisoned food, and now women."
The unusual attack came amid another series of bloody episodes across Iraq.
In Baqouba, north of Baghdad, a suicide car bomber aimed his vehicle at Iraqi police officers near the main entrance to the city. The bomb exploded close to the checkpoint, killing a passing driver who was hit in the head by flying shrapnel, according to an eyewitness. More than a dozen others were injured.
Near the city of Safwan in southern Iraq, two American convoys struck roadside bombs within the same hour Wednesday, killing two soldiers and an airman in two separate explosions, according to U.S. military officials. American officials also announced an investigation into the death of a Marine two days earlier from a nonhostile gunshot wound at a camp near Fallujah.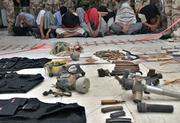 The deaths brought to 1,922 the number of U.S. service members who have died since the Iraq war started in March 2003, according to an Associated Press count.
In clashes between armed men and U.S. forces on a highway near Ghazaliya on Baghdad's western edge, a passing driver was shot and killed by stray bullets, according to Iraqi officials.
Police discovered the bodies of seven young men near a railway line in Shula, a northwestern Baghdad district. The men, who had been blindfolded, handcuffed and shot, were Sunnis from Hurriya who had been arrested by unknown men Tuesday night, according to Adnan Duelimi from the Sunni People Conference.
Insurgents have stepped up their bloody campaign after a joint U.S.-Iraq military offensive in Tal Afar near the Syrian border earlier this month. The violence has mostly targeted Shiites. But in recent months, there have also been reports of police abuses against Sunnis.
The female suicide bombing followed meetings Tuesday between Iraqi government envoys and local chieftains aimed at encouraging residents to sign up with the Iraqi police.
The cloaked woman struck the recruitment center as it opened its doors for the first time Wednesday. Mingling with recruits and people seeking government aid, she detonated her explosives as she reached the center of the crowd, said Maj. Jamil Mohammed Saleh.
Meanwhile, in remarks Wednesday to reporters in Washington, President Bush painted an upbeat picture of developments in Iraq.
"The terrorists will fail," Bush said. "See, the Iraqis want to be free."
Still, Bush warned of the likelihood of escalating violence in advance of the Oct. 15 Iraqi constitutional referendum - comments echoed in London by British Foreign Secretary Jack Straw, who warned of "more dark moments" in Iraq.
Copyright 2018 The Lawrence Journal-World. All rights reserved. This material may not be published, broadcast, rewritten or redistributed. We strive to uphold our values for every story published.