A Lawrence man's court battle against a $45 speeding ticket issued in March 2004 has ended.
The result?
Zamir Bavel won't have to pay the fine.
But his successful Douglas County District Court case won't change how Lawrence Police officers are trained to use radar guns, which was what Bavel had hoped for.
"The judge made no ruling on the training of the officers," city prosecutor Jerry Little said.
"As far as training and education goes, we are still in the opinion that the officers have sufficient training and education. So, I don't anticipate any kind of action with the Lawrence Police Department or any changes in their training."
Bavel, a computer science professor at Kansas University, argued in court that he didn't think Lawrence Police officers had enough training to operate radar guns and shouldn't be allowed to issue speeding tickets - including his.
He also has said that he wasn't speeding when he was ticketed near 19th Street and Ousdahl Drive in March 2004.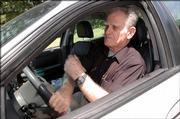 Bavel said Monday that it would take community pressure for any changes in how police officers are trained to use radar guns. He said a local attorney had asked to meet with him to see his research and that several people had congratulated him on the win.
Little said Bavel won his case because of its age. The officer who issued the ticket couldn't remember some details of the traffic stop, which occurred a year and a half ago.
When the officer testified, Little said he couldn't remember his exact location of where he had parked the patrol car or when the radar gun locked onto Bavel's vehicle to capture the car's rate of speed.
"We believe the defendant was speeding," Little said. "The judge also did say he doesn't think the officer's credibility is at issue - just his memory."
Bavel reiterated that he wasn't speeding and that the court victory made his point.
"This was not about the money for me. It was the principle," he said. "And I feel based on the response I have received from people that my point was made. I think the Lawrence Police need more training."
Lawrence Police Lt. Dan Ward said he couldn't speak about the specifics of Bavel's case. But he said the department's training division regularly reviews training requirements.
Copyright 2018 The Lawrence Journal-World. All rights reserved. This material may not be published, broadcast, rewritten or redistributed. We strive to uphold our values for every story published.