When city officials considered housing evacuees from Hurricane Katrina earlier this month, they didn't have a single point of contact to involve Lawrence faith communities.
"What we experienced here with Hurricane Katrina was so many people wanting to help, which is difficult in our community," said Steve Ozark, a member of Trinity Lutheran Church, 1245 N.H. "There's not a centralized faith-based organization to respond to these things. I try to imagine, if that crisis had been in Lawrence, who would people turn to?"
It's not just an issue during a major disaster.
The faith-based organizations providing services to the homeless and poor in Lawrence haven't always worked closely together through the years. There hasn't been a single organization that includes people of all faiths, regardless of beliefs.
But two new organizations are attempting to change that.
The Lawrence Community Interfaith Initiative has been meeting this year, with a focus on serving people in need. And the Lawrence Community Religious Fellowship will meet for the first time Monday, gearing its meetings toward getting people of all faiths around a single table to provide greater understanding of people from different backgrounds.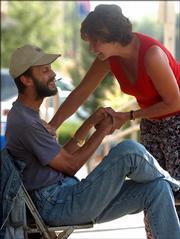 "My personal view is we do too little to really have people of different religions interface with each other, even within the Christian faith," said the Rev. Lew Hinshaw, a retired associate pastor at Plymouth Congregational Church, 925 Vt. "We don't do a good job of talking across our denominational lines or theological lines."
Coming together
Many local religious leaders have said Lawrence, with its liberal tendencies in a conservative state, and with the diversity brought by Kansas University, has a highly divided faith community.
The divisions came to a head this spring, when people of various faiths split over a proposed state constitutional amendment banning same-sex marriages.
In the past, two main groups of Christian pastors have met regularly. The Lawrence Ministerial Alliance involved predominately the mainline churches in town, while the Lawrence Association of Evangelicals has involved a separate set of ministers.
The new groups are attempting to overcome that history.
The Lawrence Community Interfaith Initiative is based on the idea that people of all faiths can agree on helping the homeless and poor.
"It's one thing that does unify people of faith - the desire to serve our fellow man, especially those with needs," said Ozark, who is spearheading the effort. "I think this has a powerful potential to really unite our community, with people from each individual faith."
So far, several Christian churches and organizations, the Lawrence Jewish Community Center and the Buddhist faith have been represented at the meetings, Ozark said. Representatives from the Islamic Center of Lawrence have followed the group's actions by e-mail minutes but haven't attended the meetings, he said.
"It's going to be a very good place to educate people and get discussions going," said Janeine Cardin, a Rime Buddhist and Interfaith Initiative member. "(Cooperation) has been a weak point, but I think this is an excellent starting point.
"Hopefully, this might help the Christians stop squabbling. If you can learn to sit and be comfortable and allow that, you can be not so sharp about what another Christian was saying."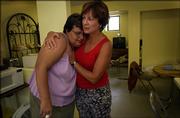 Kickoff events
The Interfaith Initiative is planning a citywide Day of Prayer on Oct. 30. Faith communities will be encouraged to pray for those in need during their usual worship services around that date, then join together for a 3 p.m. convocation in South Park.
A Day of Service, with people of faith providing public service in Lawrence, will follow Nov. 12.
Ozark said he didn't expect to add many new services for the poor and homeless. He said increasing communication would help connect people to services and could identify gaps in services.
He said, for instance, having leaders of food pantries talk more often might help make them more efficient.
The Rev. Paul Gray, pastor at Heartland Christian Church, 619 Vt., helps lead the Leo Center, a social service facility based in the former Riverfront Mall led by several evangelical churches. He said he thought the Interfaith Initiative could add clarity to the services provided in Lawrence.
"I don't see it as being in competition," he said. "There are way more people in need than the Leo Center can help, or any single agency in town. Where it's possible, we'd like to work together with other groups."
Gray said it's hard to pinpoint exactly why there hasn't been a history of cooperation among different faiths in Lawrence.
"I think, unfortunately, each of us may have some things that are non-negotiable," he said. "It's different with different people. They say, 'We can't compromise on this. If we have to compromise on this, we can't be involved.'"
Photo Gallery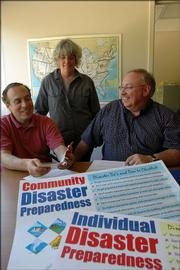 Hurricane Katrina
'Big dream'
Meanwhile, the Lawrence Community Religious Fellowship will meet for the first time from 6:30 p.m. to 8:30 p.m. Monday at Lawrence Memorial Hospital, 325 Maine.
The group is the reincarnation of the Lawrence Ministerial Alliance. Hinshaw said members were hoping to start a dialogue among people of all faiths, open to pastors or anyone else interested.
"In Lawrence, that has not happened with any regularity," he said. "That's a blot on all of us, I think. This will be an experiment to see what's possible, to see who responds. It will primarily be focused on fellowship and getting to know and value different expressions of faith."
It may be a lofty goal. But those organizing both groups say any progress toward unity will make Lawrence a better place for people of faith.
"I hope we can do this," said Teri Guntert, a nondenominational pastor who provides ministry to the homeless in Lawrence. "This is an attempt that's been there before but seems to fail. Unity is that big dream out there that we as a community can't tap into."
How can I get involved?
The Lawrence Community Interfaith Initiative and Community Religious Fellowship are intended to act as umbrella organizations spanning several faith groups and to provide assistance and shelter in times of crisis. The Lawrence Community Interfaith Initiative will have its next meeting from 1 p.m. to 2:30 p.m. Oct. 11 at First United Methodist Church, 946 Vt. The group has scheduled a Day of Prayer on Oct. 30, with faith communities encouraged to pray about those in need. A 3 p.m. convocation is scheduled in South Park, with leaders in the faith community and others scheduled to speak. A Day of Action is scheduled for Nov. 12, with people of faith scheduled to provide community service in Lawrence. The Community Religious Fellowship will meet for the first time from 6:30 p.m. to 8:30 p.m. Monday at Lawrence Memorial Hospital, 325 Maine.
Copyright 2018 The Lawrence Journal-World. All rights reserved. This material may not be published, broadcast, rewritten or redistributed. We strive to uphold our values for every story published.