Catherine Hale Robins has more luck sculpting her bronze-cast animals than she does selling them.
"This is a great town to make art," the Lawrence sculptor said. "It's not a particularly great town in which to sell it."
Robins said she had never been able to pinpoint exactly why. It could be the college town's average wages don't match the types of prices quality art tends to demand. Or that would-be buyers don't know many artists will set up payment plans for larger pieces.
Whatever the reason, an event opening this weekend is attempting to put more locally made art into Lawrence homes.
The fifth annual Lawrence Own-Your-Own art show and sale opens Saturday and runs through Oct. 2 at the newly completed Hobbs Taylor Lofts, 750 N.H. This is the first public event at the building.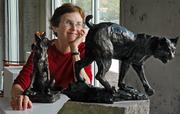 The show features 150 works from 60 artists who live in Douglas County.
"It's a variety," said Lee Gerhard, a show organizer. "We have photography, oils, watercolors, acrylics, sculpture. There is at least one glass piece. There are one or two pieces of furniture."
And that means a variety of prices for potential buyers. Sales stickers run from $35 for a 2-by-2-inch mixed media piece to $3,800 for a large textile.
That's one message organizers hope to send to those who haven't purchased local art: It doesn't have to be expensive.
"The barrier is they go to the big galleries in the big cities and the prices are horrendous," Gerhard said. "Being an artist in one's own community is difficult."
Nancy Hernandez, an art historian and docent at the Spencer Museum of Art at Kansas University, served as juror for the show, which drew entries from 118 artists. Artists could submit five pieces, with Hernandez choosing no more than three for exhibition and sale.
Event
Lawrence Own-Your-Own Art Show
Where: Hobbs Taylor Lofts, Eighth and New Hampshire St., Lawrence
Age limit: All ages
Cost: Free
-->
-->
"There are lots of different kinds of art going on in town, and we wanted that represented in the show," Hernandez said. "I think Lawrence should be pretty proud. This is kind of an art mecca."
Prizes from the jury process will be awarded during an opening reception from 6 p.m. to 9 p.m. Saturday. A "people's choice" award will be given at the conclusion of the show.
"The quality automatically goes up when you have a juried show," Gerhard said. "And it provides an opportunity for young and unknown artists to enter."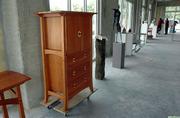 Artists are not charged an entry fee, but they agree to donate 20 percent from any piece sold to the Bert Nash Community Mental Health Center, 200 Maine. The show has generated between $4,000 and $6,000 annually for Bert Nash's endowment fund to support a variety of programs.
"It's a win-win for both the community, which gets to look at some nice, local artwork, and it supports not only local artists but Bert Nash," said Scott McMichael, a Bert Nash spokesman and show organizer. "It's a great venue for local artwork."
Robins, who had sculptures of a coyote and a bobcat accepted, said juried shows were a way to make sure her skills were honed.
"It's kind of a way of measuring up," she said. "It's a way to make sure you're competitive with other people in the country."
Arts patrons will be keeping a close eye on the show, as well. John Parker, who has purchased art from the LOYO show for three of its four years, said it was an accessible sale that people of any art knowledge or pocketbook size should feel comfortable at.
"I think people are a little intimidated to go to an art show," Parker said. "If you're not in the circle and don't know the people, you might feel intimidated to walk in from the street. That can't be further from the truth with the people who set up this show."
Copyright 2018 The Lawrence Journal-World. All rights reserved. This material may not be published, broadcast, rewritten or redistributed. We strive to uphold our values for every story published.