San Francisco — Most blessings in Charlie Sexton's life have come with a curse.
At 17, the lanky Texan was heralded as a blues guitar prodigy. Instead, he became a rock 'n' roll pretty boy and the butt of critics' jokes. He reappeared in the promising Arc Angels, but the band quickly disintegrated. Then he reinvented himself as Bob Dylan's touring guitarist - and saw his marriage crumble.
Now 37, he's still lanky, resembling a more angular Matt Dillon. Wearing jeans, boots, a white linen shirt and black leather jacket, he talks about his first album in 10 years, "Cruel and Gentle Things."
He calls it a "surrender."
"It was like, you know what, I'm going to stop trying to write a big rock song that they want me to write. This is what I do. ... That's the kind of music I make."
That means twangy, lush and melodic, with Sexton playing everything from guitar to dobro and cello to percussion. It's a long way from his slick, highly produced 1985 debut, which yielded "Beat's So Lonely." Buoyed by the sexy, black-and-white video, the song was an unexpected hit that turned him into an MTV heartthrob, better known for his chiseled cheekbones than his songwriting skills.
In the early 1990s he formed the Arc Angels with Stevie Ray Vaughn's rhythm section - bassist Tommy Shannon and drummer Chris Layton - and fellow guitarist Doyle Bramhall II, all longtime friends.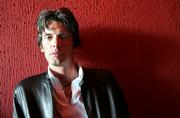 They were an oasis of classic rock in the midst of grunge, and sold-out crowds came to hear "Living in a Dream," a modest radio hit. But about a year later, Bramhall's drug problems "blew the band up," Sexton says.
A few years later came the Charlie Sexton Sextet and "Under the Wishing Tree," an alt-country masterpiece that somehow missed the movement. The band was recording a follow-up for A&M; Records when the Universal-Polygram merger left them without a deal.
"I was so broke. I was just trying to keep it going, keep the band going and writing all the time. ... I had written myself into oblivion," Sexton says.
His former manager and longtime friend Tim Neece says he wishes he'd started slower with Sexton back when he was first signed at age 16. "Give him time to grow into it," Neece said.
Sexton's debut, "Pictures for Pleasure," sold about 300,000 copies in the U.S., but expectations had been much, much higher, Neece says.
That Sexton had even made it that far was an accomplishment. His mother was 16 when he was born. His father went to prison when he was 4 and his parents divorced. Unable to afford a babysitter, his mother took Sexton and his younger brother to Austin's nightclubs, where Sexton showed early prowess.
He played with John Lee Hooker when he was 12 and toured with Joe Ely as his lead guitarist when he was 13.
"I knew that there was only a certain number of options for me, and I kind of had this natural ability. Music was it," he explains.
Despite his talent, Sexton again found himself out of work in 1999, married with a 6-month-old son. He was feeling the pressure to provide, to earn a stable living.
That's when Bob Dylan came calling. The two had played together more than 20 years ago, and "for whatever reason, Bob liked me," Sexton says. They agreed on a one-year deal.
His decision turned out to have greater repercussions - personally, not musically - than he'd ever imagined. He holds up a bare wedding finger.
"The loss was significant," he says. Greater than the gains? "Probably."
He left Dylan's tour in 2002 and quickly established himself as a producer, earning credits on albums by Lucinda Williams and Edie Brickell, among others. He also started putting together "Cruel and Gentle Things."
The last of the album's 10 songs is "It Don't Take Long," where listeners can find the theme Sexton says he's been trying to articulate since "Beat's So Lonely."
"Ever wanting. Ever longing. Never-ending blue," Sexton says, reciting the lyrics in his Marlboro-tinged voice. "So I'll take the inspiration with the gloom because usually where there's a tear, there's a tune."
Copyright 2018 The Associated Press. All rights reserved. This material may not be published, broadcast, rewritten or redistributed. We strive to uphold our values for every story published.