Washington — Teary-eyed Supreme Court justices, a somber President Bush and one-time clerk John Roberts led a long line of Americans paying their last respects to William H. Rehnquist, the chief justice whose conservatism helped drive the high court toward the right.
Washington protocol underscored a changing of the guard Tuesday. Roberts, the former Rehnquist clerk named to succeed his old boss, was among the pallbearers carrying the flag-draped casket up the court's long steps and into the Great Hall.
Rehnquist died Saturday at 80 after battling thyroid cancer.
Bush, his head bowed, and first lady Laura Bush spent about a minute standing near the casket and a short time looking at the portrait of Rehnquist on a stand nearby. Justice Antonin Scalia escorted the couple.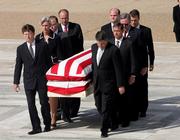 Funeral services will be at noon today at St. Matthew's Cathedral in Washington, open to friends and family. Bush and Vice President Dick Cheney plan to attend, and Bush is to speak, along with retiring Justice Sandra Day O'Connor and Rehnquist family members.
Bush initially nominated Roberts, a federal appellate judge, to replace O'Connor, who announced in July that she would step down. The president said Monday that he would nominate Roberts to be the nation's 17th chief justice instead and that the list of possible nominees for O'Connor's seat was now "wide open."
Flags, including the one above the court, were at half-staff in honor of Rehnquist, a President Nixon appointee who served on the court for 33 years and was elevated to chief justice in 1986 by President Reagan.
In an acknowledgment of the period of mourning, Roberts' confirmation hearings, which had been scheduled to begin Tuesday in the Senate, were delayed until Monday.
Burial at Arlington National Cemetery will be private. Rehnquist served as a soldier in the U.S. Army Air Corps during World War II.
As chief justice, Rehnquist is entitled to a state-sponsored official funeral, a ceremony that includes a 19-gun salute, four ruffles and flourishes from drums and bugles, and the last 32 bars of the John Philip Sousa march "Stars and Stripes Forever" among other military honors.
A line of hundreds of people, a mix of tourists and office workers, stretched across the Supreme Court plaza and several hundred yards down a sidewalk Tuesday evening.
Copyright 2018 The Associated Press. All rights reserved. This material may not be published, broadcast, rewritten or redistributed. We strive to uphold our values for every story published.