SAN ANTONIO — Forced to find a new place to play their home games, the New Orleans Saints would prefer to play close to home.
The Saints said Sunday three options were being considered: LSU's Tiger Stadium in Baton Rouge, La; the Alamodome in San Antonio; or at the stadiums of all their opponents.
From general manager Mickey Loomis to coach Jim Haslett to star receiver Joe Horn, the entire organization seems to want to relocate to Baton Rouge, which is only about 75 miles from New Orleans yet did not sustain anywhere near the kind of damage from Hurricane Katrina that ruined the Superdome.
"If we can uplift anyone, obviously that's worthwhile to us," Loomis said. "We're representatives of the people of Louisiana and the people of New Orleans."
However, Loomis said, "We would like to play our games in Baton Rouge. Obviously, the league has a lot of say. They'll be involved in the decision."
The team has moved its day-to-day operations to San Antonio and will begin practicing in the area today.
Loomis, Haslett and Horn all agreed staying there and playing games in the Alamodome would be better than having play all 16 games on the road. The Saints already are down for nine as NFL commissioner Paul Tagliabue has moved their home opener to Giants Stadium, home of their foe, the New York Giants.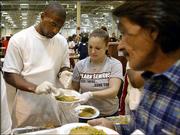 Still, their top choice is being in Louisiana, something Horn took to heart after spending about three hours Saturday visiting with displaced residents at the Astrodome.
"After talking to all the people yesterday I know that the fans want us to be as close as possible, so LSU would be the best choice," he said.
The Saints open Sunday at Carolina, then play at Giants Stadium on a date to be announced. Their third game is at Minnesota, so the first game still in flux is Oct. 2 against Buffalo.
Haslett said NFL commissioner Paul Tagliabue "put us behind the eight ball" with the decision to play at the Meadowlands in Week 2.
Club officials and players are living in a hotel across the interstate from the Alamodome and will be practicing at the San Antonio Independent School District's Spring Sports Complex, which was upgraded several years ago when the Dallas Cowboys trained in the city. The Saints practiced there last year while taking refuge from another hurricane.
Loomis said Sunday the Saints planned to keep their temporary headquarters and practices in San Antonio all season, regardless of where they end up playing their home games.
Everyone involved in the organization, and their families, fled New Orleans a few days before Katrina hit. It was evident soon after the storm that the Superdome wouldn't be available for this season.
Tiger Stadium holds almost 92,000, although there might be issues of whether the turf can handle LSU games on Saturdays and Saints games on Sundays.
Copyright 2018 The Associated Press. All rights reserved. This material may not be published, broadcast, rewritten or redistributed. We strive to uphold our values for every story published.