Five years ago, the field south of Eagle Bend Golf Course in the shadow of Clinton Lake was abandoned cropland, empty and muddy.
A trip to the 156-acre site last week, though, revealed something else entirely: a wetlands environment filled with sunflowers, switchgrass, sage, lilies and dozens of other plant species, creating a colorful playground for dragonflies, birds, deer and a variety of wildlife.
To a layman's eye, the restoration effort looks like a success. But Kelly Kindscher, the Kansas Biological Survey scientist who oversaw the project, said he has mixed feelings. In summer 2000, volunteers planted seeds from 80 different types of plants at the site; only about half of those can be found today.
"On the one hand, we weren't very successful ... maybe half of what we planted we can find here," Kindscher said. "On the other hand, we were very successful; we increased the biological diversity by about 40 species."
Kindscher's views on the restoration efforts - and those of Roger Boyd, the semiretired Baker University scientist - go to the heart of a question affecting the future of the South Lawrence Trafficway: When it comes to creating new and restored wetlands, how good is good enough?
"It really depends on who you talk to," Boyd said.
Sacred ground
It has been more than a year since federal officials approved a 32nd Street route - through the wetlands - to complete the unfinished trafficway south of Lawrence.
The approval included an agreement between Baker University, the owner of the wetlands, and the Kansas Department of Transportation to create and maintain 300 acres of new wetlands in the area to replace approximately 65 to 100 acres that would be disturbed by the road project.
Members of the Haskell Indian Nations University community have opposed the project, saying the wetlands are sacred ground. Environmentalists have opposed the project, arguing that the wetlands are environmentally unique and that "mitigation" efforts wouldn't be as good.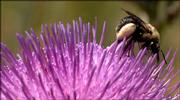 A look at earlier mitigation efforts in Douglas County doesn't necessarily settle the arguments.
In addition to the 40 species of plant life planted at Clinton Lake, Kindscher said, another 40 to 50 varieties have popped up - thanks to seeds borne by wildlife and rains. But nearly 100 species of plants, he said, doesn't approach the biological diversity on the site from 150 years ago - as many as 200 types of plants before the land was plowed for crops.
"We're able to restore these landscapes, but we're not able to bring back all the diversity," he said. "We can bring back a lot."
A few miles to the east of Clinton Lake, an older 18-acre patch of restored wetlands at 35th and Haskell also appear to be thriving, Boyd said.
"I think it's doing great," Boyd said. "I don't know the diversity - I've not gone back in and checked the diversity of plants - but it does have good representation of the dominant species."
But Boyd, who would help create the new wetlands if the SLT project moves forward, said other factors are more important in defining a functional wetlands.
"To a wetland scientist the definition of a functional wetlands is that it contains water less that 6 feet deep for at least two weeks of the year, it has hydric soils, and it contains hydric vegetation," he said. "The number of species of hydric plants is not a measure of functionality. The species diversity might be considered an issue of quality."
Disputed ground
It might be a while before the dispute is resolved.
KDOT officials said last week they were contemplating legal action to force a federal court to give final affirmation or rejection to the 32nd Street route. And though transportation leaders have said the state's empty coffers have delayed the projects, the treasury has been doing better in recent months.
Sally Howard, KDOT's chief counsel, said she couldn't give a timeline for moving ahead.
"There's no immediate plans to do the mitigation work," she said. "But once this litigation is completed - and I know everyone is wondering when that's going to happen - that would be the first thing we would do before we would start the road."
Most of the wetlands were once cropland that was converted back to wetlands. That gives Boyd reason to believe newly created wetlands nearby would be successful.
"We could have a pretty decent wetlands in four or five years," he said.
He added, in an e-mail to the Journal-World: "To be sure, we will attempt to increase plant diversity in the mitigated wetlands by transplanting soil plugs by tree spade and seed collections, but whether the restoration is successful is not dependent upon plant species diversity."
It's important to Kindscher, though. He said that new wetlands might not have nearly as many species of plants as original wetlands - even after decades of growing.
"How close does one get to perfection?" Kindscher said. "We're not going to get there."
Copyright 2018 The Lawrence Journal-World. All rights reserved. This material may not be published, broadcast, rewritten or redistributed. We strive to uphold our values for every story published.