Baghdad, Iraq — Thrown into a panic by shouts that a suicide bomber was in their midst, thousands of Shiite pilgrims in a procession across a Baghdad bridge suddenly stampeded, killing more than 840 people, many of whom plunged to their deaths in the Tigris River.
It was Iraq's single largest loss of life since the U.S. invasion in March 2003.
Most of the dead were women, children and the elderly, Iraqi officials said. More than 323 people were injured, and officials at the five hospitals treating the wounded reported being overwhelmed and struggling to cope.
The magnitude of the tragedy could be seen in hospital hallways, where bodies of victims were piled because morgues had filled up. Iraqi officials said the death toll could rise.
Pandemonium ensued when word that a suicide bomber was in the crowd spread through the legions of Shiites trying to make their way across Al Aimmah Bridge toward the Khadimiyah mosque in northern Baghdad. There was no suicide attacker, but in the chaos, scores of people on the bridge were crushed underfoot and even more drowned when they leapt into the Tigris 100 feet below.
"It seemed like it all happened in a second," said Khaled Hamid, 30, who suffered injuries to both legs. "People were screaming, children and women were falling to the ground, and people were just stepping on them. Then afterward, there were dead people everywhere."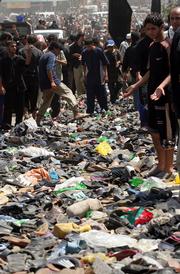 Iraqi leaders stressed that they believed the bridge stampede was a tragic accident and said they had no evidence that it was linked to Iraq's two-year insurgency.
However, about 8 a.m., nearly three hours before the stampede, insurgents fired mortars into the throngs gathering to visit Khadimiyah mosque, killing seven people and wounding at least 30.
Questions were likely to be raised about whether authorities failed to adequately plan for the pilgrimage, a yearly event that always attracts hundreds of thousands of Shiite pilgrims from across Iraq.
Many witnesses said the chaos was exacerbated by concrete barricades along the bridge that were meant to deter car bombers but that effectively hindered pilgrims' means of escape.
Copyright 2018 The Lawrence Journal-World. All rights reserved. This material may not be published, broadcast, rewritten or redistributed. We strive to uphold our values for every story published.