Washington — Black civil rights pioneer Rosa Parks would become the first woman to lie in honor in the Capitol Rotunda under resolutions considered Thursday by lawmakers.
Parks' refusal to give up her bus seat to a white man in Montgomery, Ala., in 1955 led to a 381-day boycott of the city's bus system and helped spark the modern civil rights movement. She died Monday in Detroit at age 92.
The Senate approved a resolution Thursday allowing her remains to lie in honor in the Rotunda on Sunday and Monday "so that the citizens of the United States may pay their last respects to this great American." The House was expected to consider the resolution today.
In most cases, only presidents, members of Congress and military commanders have been permitted to lie in the Rotunda.
Parks would be the first woman and second black American to receive the accolade. Jacob J. Chestnut, one of two Capitol police officers fatally shot in 1998, was the first black American to lie in honor, said Senate historian Richard Baker.
Parks also would be the second nongovernmental official to be commemorated that way. The remains of Pierre L'Enfant - the French-born architect who was responsible for the design of Washington, D.C. - stopped at the Capitol in 1909 - 84 years after his death in 1825.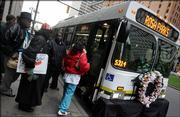 Officials with the Rosa & Raymond Parks Institute for Self Development in Detroit said at one point that Parks would lie in repose at the Lincoln Memorial. The National Park Service, however, said those plans were never formalized.
Lila Cabbil, the institute's president emeritus, said Thursday the information was released prematurely and the foundation and the Parks family were working with Reps. John Conyers and Carolyn Cheeks Kilpatrick, D-Mich., and the White House to make arrangements to have a viewing in Washington.
Parks will lie in repose Saturday at the St. Paul AME Church in Montgomery, Ala., and a memorial service will be held at the church Sunday morning.
After her viewing in the Capitol, a memorial service was planned for Monday at St. Paul AME Church in Washington.
From Monday night until Wednesday morning, Parks will lie in repose at the Charles H. Wright Museum of African American History in Detroit. Her funeral will be Wednesday at Greater Grace Temple Church in Detroit.
Copyright 2018 The Associated Press. All rights reserved. This material may not be published, broadcast, rewritten or redistributed. We strive to uphold our values for every story published.