Daniel Flynn knows what it takes to attract a promising biotechnology startup to Kansas, and it's not necessarily a pile of tax breaks, offers of job-training assistance or other traditional governmental mechanization.
Try money and lab space.
"When we came here, we were two men and a truck," said Flynn, president and CEO of Deciphera Pharmaceuticals LLC in Lawrence. "It was 'Grapes of Wrath,' literally, coming from Cambridge, (Mass.) We actually had a pickup."
Today, nearly three years later, Deciphera is thankful that it managed to round up local capital and find a home in the former Oread Laboratories campus in west Lawrence.
Now with 18 employees and plans for adding to an initial round of $15 million in venture capital financing, Deciphera - which is working on molecular "blockers" to proteins that cause diseases, such as cancer - is giving government and development representatives a case study in how to build a biotechnology sector.
"You can look at me as a 'poster child' client," Flynn told about 80 people attending a Kansas Economic Policy Conference on Friday at the Kansas Union. "I'm very glad to be here, and we're going to stay here."
Many attendees came to the conference looking for ways to gain a competitive advantage in the race for biotechnology investments and the benefits they can produce.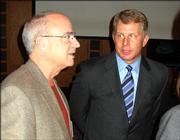 Tracy Taylor, president and CEO of the Kansas Technology Enterprise Corp., said that events such as the policy conference could help leaders formulate a focused plan for fostering biotechnology resources in the state.
He noted that efforts by local governments and the Lawrence Chamber of Commerce were on the right track. The chamber is working on plans for building laboratory "incubator" space for promising startups, and Lawrence and Douglas County commissioners have committed $400,000 next year toward the effort.
Such efforts, coupled with the strong research base and other benefits offered by a major research institution such as Kansas University, make Lawrence a major player in an emerging statewide effort to build biotechnology strength.
"You have to pick the right strategies and execute well - just like everything in business," Taylor said.
Jerry Paytas, director of the Center for Economic Development at Carnegie Mellon University in Pittsburgh, delivered the conference's keynote address, emphasizing that universities were key to research efforts for any state.
Another key: Attracting promising entrepreneurs, nurturing their operations and then convincing them to stay in town - even if their businesses are sold or moved to another part of the country.
"Ideally, you want to see if you can keep the talent," Paytas told the crowd, noting that such entrepreneurs often reinvest their proceeds into other promising startups. "If you can keep these people here - chain them, marry them off to someone, whatever - if you can keep them, you can reach that critical mass."
Flynn's circumstances, again, could offer a case study. The Deciphera founder and KU graduate's pharmaceuticals career already has taken him to Bloomington, Ind., Ann Arbor, Mich., Chicago, St. Louis, Los Angeles and Boston, and he hopes to keep his company in Lawrence.
But it isn't easy, he said, with pressures from large venture capital firms focused on drawing operations to the coasts.
"We're trying to stay here," he said. "We're trying to negotiate an arrangement where we don't grow an asset and then have to vacate the state."
Copyright 2018 The Lawrence Journal-World. All rights reserved. This material may not be published, broadcast, rewritten or redistributed. We strive to uphold our values for every story published.