Jerome Durbin says he'll never forget his first day in Lawrence.
"It was the fall of 1968 - November, I think," he said. "I needed a haircut, so I had gone to one of the barbershops downtown. I was sitting there when this professor-looking guy with a big peace symbol around his neck comes up to me and says, 'just want you to know we're here to run you out of town.'"
Fresh from the first of his two stints in Vietnam, Durbin had come to Lawrence to begin a graduate teaching position with the Army ROTC program at Kansas University.
"I remember thinking to myself, 'Well, welcome to Lawrence.'"
The barbershop confrontation was not Durbin's last.
Six months later, he was commandant of the Army ROTC cadets when anti-war protesters disrupted the annual Chancellor's Review. And he was inside the Reserve Officers' Training Corps building the night an angry band of rock-throwing students broke out a few dozen windows.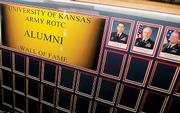 "A couple days after that, a friend of mine in Wichita called and said, 'Get me some names. I've got 50 guys. We're coming up there,'" Durbin said. "I had to tell him, no, the best course of action was just to let it go."
Durbin, now 68, is one of hundreds of former KU Army ROTC students and faculty invited to the Kansas Army ROTC Alumni Homecoming Celebration set for Saturday at the Military Science Building on KU's main campus.
"We've had RSVPs from all over the country," said Capt. Rob Leicht, recruiting operations officer at Army ROTC.
"It's going to be great to hear their stories - their real world stories - and to honor them," Leicht said.
Army ROTC's presence on the KU campus was the subject of anti-war protests in the late 1960s and early 1970s. But it's been supported, too.
ROTC Wall of Fame
Six former cadets in Kansas University's Army ROTC program will be inducted Saturday into the program's new wall of fame. The inductees are: ¢ Col. Clyde Tate, special assistant to the Judge Advocate General for the U.S. Army. ¢ Col. Barry Fowler, commander of the Battle Command Training Program at Fort Leavenworth. ¢ Col. Dean Vakas, director of the School for Command Preparation at Fort Leavenworth. ¢ U.S. Rep. Dennis Moore. ¢ U.S. District Judge Gerald Rushfeldt. ¢ Forrest Hoglund, former chairman and chief executive officer of Enron Oil & Gas Co. and past chairman of the KU First fundraising campaign.
"KU has a rich history of military support, going all the way back to the early 20th century - World War I, World War II and up to the 1960s," said Lt. Col. William Jeffrey Maxcy, battalion commander of the Army ROTC program at KU.
Concern over ROTC's role on campus, Maxcy said, has "ebbed and flowed" over the years.
He attributed much of the late 1960s turmoil to the draft and "problems associated with Vietnam."
At KU, few have protested ROTC's presence on campus during the Iraq War era.
"There's been a little," Maxcy said. "It's been a good thing. It's given us the opportunity to remind our students that in a democratic, pluralistic open society, dissent is essential. Without it, we would be living in an authoritarian society."
David Pendleton, a 46-year-old former lieutenant colonel and a 1981 KU graduate, helped assemble the reunion's invitation list.
"There are three generals - soon to be four," he said. "There's a slew of doctors and a bunch of judges. There are a lot of success stories."
Pendleton, who lives in Lenexa, said he cherishes his Army ROTC experience.
"I had a great time at KU," he said. "I didn't have any problems there, although there were a couple times we were advised not to wear our uniforms."
KU's Army ROTC opened its doors in 1918. Since then, it's produced more than 2,000 lieutenants.
KU is one of 50 universities nationwide with ROTC programs for the Army, Navy and Air Force.
William Shunk, 70, taught at KU ROTC from 1969 to 1971. He left KU for a tour in Vietnam.
"I know those were tumultuous times," said Shunk, who lives in Lawrence. "But I'd been a flight instructor at Fort Rucker in Alabama before I came here. Alabama was a pretty conservative place, so I always thought KU was fun and exciting. It certainly was different."
Copyright 2018 The Lawrence Journal-World. All rights reserved. This material may not be published, broadcast, rewritten or redistributed. We strive to uphold our values for every story published.