Seth Readinger spent part of his Saturday climbing up a stepladder and bringing down kitchen sinks from a top shelf.
As a Kansas University junior and ROTC student, Readinger volunteered with a few other ROTC members, who are required to volunteer five hours per semester, during the grand opening for Habitat for Humanity's ReStore, 800 Comet Lane. The ReStore sells used and donated building supplies to raise money for Lawrence Habitat for Humanity.
"I didn't have much to do today. It's nice to be able to do something that's worthwhile," he said.
The ROTC's effort was one of four in Lawrence as part of the national Make a Difference Day 2005.
USA Today Weekend Magazine and the Points of Light Foundation sponsor the day, which encourages people to help others. Organizers expected between 2 million to 3 million people nationwide to participate, said Erin Urich, of the Roger Hill Volunteer Center in Lawrence.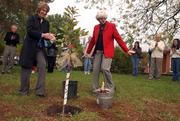 The Roger Hill center, which is affiliated with Points of Light, coordinated the Lawrence volunteers.
The ReStore opened about a month ago, but it had its grand opening Friday and Saturday, said manager K.H. Harris.
About 20 volunteers helped run the store Saturday, and all of the items sold are donated from about 27 area businesses, she said.
"I'm absolutely grateful for volunteers," Harris said. "Since the store opened, we've had over 1,000 volunteer hours. That's phenomenal."
Also on Saturday in Lawrence, members of the Ladies Auxiliary Club worked at Stepping Stones, a nonprofit early childhood center; KU College Republicans painted at the Self Advocates Coalition; and Altrusa civic club members cleaned at the Lawrence Public Library.
The Roger Hill Volunteer Center also celebrated its 15th anniversary during a reception Saturday morning.
Copyright 2018 The Lawrence Journal-World. All rights reserved. This material may not be published, broadcast, rewritten or redistributed. We strive to uphold our values for every story published.