Des Moines, Iowa — A ticket sold in Oregon matched all six numbers drawing in Wednesday's Powerball game to win the $340 million jackpot.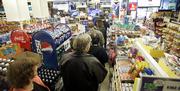 The drawing capped off a day of heavy sales in all 27 states where Powerball is played, plus the District of Columbia and the U.S. Virgin Islands. In Kansas, sales were averaging $1,302 per minute at 4:45 p.m.
It was the largest jackpot in the game's history and the second-biggest lottery jackpot in U.S. history.
The winning numbers drawn Wednesday evening were 7, 21, 43, 44, 49 and 29.
There were 47 tickets sold that matched the first five numbers drawn but failed to match the Powerball to win $200,000.
The Powerball jackpot had been snowballing since mid-August, with 20 straight drawings in which no one won the grand prize.
Mary Neubauer, spokeswoman for the Iowa Lottery, said hundreds of ticket buyers had played a set of numbers from the ABC drama "Lost," which featured a character who won $156 million by playing a string of digits obtained from a patient in a mental institution: 4, 8, 15, 16, 23 and 42.
"I just think it speaks to people's fascination with numbers and the what-if factor," Neubauer said.
The odds of hitting all six numbers were 1 in 146 million.
Copyright 2018 The Associated Press. All rights reserved. This material may not be published, broadcast, rewritten or redistributed. We strive to uphold our values for every story published.