Baghdad, Iraq — Gone were the Homburg hat and the cigar. So were a few pounds after nearly two years in an American military prison. Still, the swagger and the smirk remained, the bearing of a man accustomed to 23 years of unchallenged power.
At his long-awaited trial Wednesday, Saddam Hussein was defiant and combative from the very start.
When the chief judge, Rizgar Mohammed Amin, asked him to identify himself for the record, Saddam quickly turned the question back on the little-known jurist: Who are you? More importantly, who are you to pass judgment on the man who still considers himself the ruler of Iraq?
"I do not respond to this so-called court, with all due respect," Saddam said, later scuffling with guards. "I retain my constitutional right as the president of Iraq."
Sitting inside a white pen with metal bars, Saddam appeared gaunt and frail and his salt-and-pepper beard was unkempt as he pleaded innocent to charges of murder, torture, forced expulsions and illegal detentions. He wore a suit with a white shirt and no tie.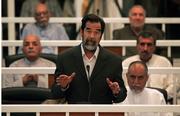 If convicted, the 68-year-old Saddam and seven of his regime's henchmen who appeared with him in the hearing could face the death penalty for their role in the 1982 killing of nearly 150 people from the mainly Shiite town of Dujail north of Baghdad after a failed attempt on Saddam's life.
Television coverage
Iraqis and much of the Arab world watched glitchy television coverage of the proceedings intently, watching Saddam strike a pose reminiscent of the once-ubiquitous television pictures of him sitting at the head of a table surrounded by "yes" men.
"Since the fall of the regime, we have been waiting for this trial," said Aqeel al-Ubaidi, a resident of Dujail. "The trial won't bring back those who died, but at least it will help put out the fire and anger inside us."
The trial was broadcast on satellite stations with a 20-minute delay. But technical quality was poor, with the sound cutting out frequently and the picture going blank several times. Reporters struggled to follow the proceedings from behind a bulletproof glass partition.
"My father is brave, a lion, I am proud of him," said one of Saddam's daughters, Raghad Saddam Hussein.
"He is a man who dedicated his life to serve his country, he was brave in his youth, so how can he be afraid now?" she told the Dubai-based Arabiyah satellite channel from Jordan.
Reaction to Saddam's trial varied in Iraq, where his loyalists, together with hardcore members of his Baath party and feared security services are an important faction of a Sunni-led insurgency wracking Iraq for the past 2 1/2 years.
In Baghdad, Shiite construction worker Salman Zaboun Shanan sat with his family at home in the Shiite neighborhood of Kazimiyah, having taken the day off from work to watch the trial.
When Saddam appeared on television, his wife spat in disgust.
"I hope he is executed, and that anyone who suffered can take a piece of his flesh," said Shanan, who was jailed during Saddam's rule, as was his wife, Sabiha Hassan, and several of their sons.
But across the Tigris River in the mainly Sunni Arab district of Azamiyah, some were embittered by the trial of Saddam, whose regime was dominated by Sunni Arabs who have now lost their power. "Saddam is the lesser of evils," said engineer Sahab Awad Maaruf, comparing Saddam to the current Shiite-Kurdish led government. "He's the only legitimate leader for Iraqis."
Daily violence
Sunni-led insurgents killed 26 people in Iraq on Wednesday, including six Shiites who were lined up at a factory and gunned down in front of their fellow workers, police said.
In two other deadly attacks Wednesday, six civilians were killed when mortar rounds hit their homes in Samarra, 60 miles north of Baghdad, and three election commission officials were shot and killed on the outskirts of the capital, as they drove home after another round of counting ballots from Saturday's constitutional referendum, police said.
A bomb also went off at a famous monument in a Baghdad square honoring the 8th-century founder of Baghdad, to whom Saddam often compared himself. The blast, which toppled the bust of Abu Jaafar Al-Mansour but caused no injuries, appeared to be a jab at the former dictator.
Copyright 2017 The Associated Press. All rights reserved. This material may not be published, broadcast, rewritten or redistributed. We strive to uphold our values for every story published.