Bunny Lavalliere's recent Halloween costumes have been mostly "fluffy and fairy-like," as she puts it - but not this year.
The 19-year-old fashion design student is making an outfit that pushes the boundaries of gore. From the front, it will have a sullen zombie look. But when she turns around, there will be fake protruding bones and organs in the back. It's another sign that, after taking a respite, darker Halloween themes are making a comeback.
"I'm big on surprises. This one is going to have amazing amounts of blood," Lavalliere says, sounding a bit gleeful about the costume she's making at her school, the Art Institute of California-San Francisco.
Her inspiration came from the revival of the slasher movie - genre classics such as "Friday the 13th" and "Halloween" that her generation is flocking to see, along with newer horror films, including "Saw" and the remake of "House of Wax."
Retailers and trend-watchers also are sensing a heightened comfort level with scarier costumes and decorations, a full return to the dark side after many revelers toned down their outfits following the Sept. 11 terrorist attacks and subsequent anthrax threats in 2001.
Of course, recent months have had their share of sad news, too - from ongoing casualties in Iraq to a seemingly constant string of natural disasters. But this time, many see scary, sometimes kitschy Halloween traditions as a way to escape tough realities, rather than potentially offensive.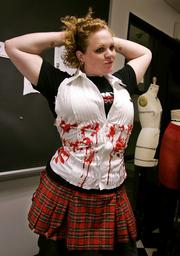 One trend-watcher sees it this way: "Gore we can manage is very much on fad right now, as we feel the increasing need to become familiar with bad things - bad things that don't get the best of us," says Marian Salzman, director of strategic content for the advertising agency JWT Worldwide. "I think it's also why we love our crime television. While the solutions are not as black and white as the days of 'Dragnet,' there is still a sense that good will beat evil in those shows."
Retailers say they first sensed an increased appetite for darker Halloween themes at trade shows last winter - and stocked up their inventory as a result.
At the national Halloween Warehouse chain, there's been big interest in the "Gothic Manor" section, where customers can find capes, chokers with studs and costumes that include the "emperor of evil" and "dark vixen," a hooded black velvet dress.
These "slightly edgier themes" are particularly popular with teens and young adults, says Malinda Behrens, vice president of brand development for Party City, which runs the Halloween Warehouse chain.
A big seller at the Spirit Halloween Superstores is a life-sized, razor-fingered Freddy Krueger character, which utters well-known phrases from the still-popular 1984 film "Nightmare on Elm Street."
"People are easing back into it," says Tonia Farinha, the stores' marketing director.
l Kid-friendly costumes are easy to make. Page 1E
Copyright 2018 The Associated Press. All rights reserved. This material may not be published, broadcast, rewritten or redistributed. We strive to uphold our values for every story published.