It seems Nickelback's recent runaway success has given lead singer Chad Kroeger a bit of an identity crisis.
He's a guitarist. No, he's a singer. By night he's a producer for bands like Theory of a Deadman and Default. When inspiration strikes, he's a hit songwriting machine. And right now he's a promotional robot for Nickelback's new album, "All the Right Reasons."
That last chore has Kroeger yearning to write more songs. But expectations are high for the Canadian band - Nickelback's 2001 breakthrough, "Silver Side Up," spawned the No. 1 song "How You Remind Me," and their second album, "The Long Road," also went multi-platinum.
Nickelback has moved bit by bit toward the mainstream, but it doesn't seem to bother Kroeger that more teenage girls than hard-core rockers are at his concerts. Where "Reasons" takes the fan base remains to be seen.
Q: The first single, "Photograph," has this kind of homesick theme. Do you find yourself a bit nostalgic lately?
A: That one truly came from the heart. It's a trip down memory lane. The home you grew up in. The high school you went to. The first person you kissed. The buddies you used to hang out with. It's definitely what we were trying to get across. We even went to (our) hometown to shoot the video.
Q: So there's this John Cougar Mellencamp kind of "Small Town" vibe to the video? Why go to Canada?
A: If you tried to recreate it, it wouldn't have the same people. It's funny how many people have seen that and had it remind them of their small town.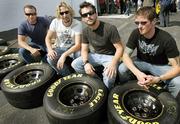 Q: The album includes a solo you pieced together from late Pantera guitarist 'Dimebag' Darrell Abbott's tapes. How did Darrell's death affect you?
A: I definitely get a little emotional. Darrell and I had been friends for a long time. I called Vinnie, his brother. I wanted to play this sketch of a song over the phone and see what he thought. He said, 'I really enjoy it, but I really want you to write a song for my brother.' I told him that happened to be that very song. I asked for his blessing. He said absolutely. He said he thought Darrell would really enjoy that. So we pieced together a guitar solo from outtakes.
Q: You've become an in-demand songwriter after penning hits for the 'Spiderman' soundtrack and artists like Faith Hill and Santana. What do you think about all these requests?
A: It feels great, but it's becoming more and more difficult to do it. Every time I write one of these songs, I end up falling in love with it. It's sort of like putting your child up for adoption.
Q: So do you consider yourself a songwriter or guitarist first?
A: I definitely consider myself a songwriter first because that's my best attribute. I'll never be the best guitar player. I can definitely make more of a mark with my songwriting.
Q: In February your drummer, Ryan Vikedal, left Nickelback and the band has since replaced him with 3 Doors Down's Daniel Adair. What happened?
A: There was definitely no ill will cast in either direction. It was just simply time to move on. It felt like everybody's heart was in the same place.
Q: You're heading out on a North American tour to promote this album. What's the craziest tour experience you've had?
A: I don't want my fiancee to know those things. It's so much better if I pass on that one.
Copyright 2018 The Associated Press. All rights reserved. This material may not be published, broadcast, rewritten or redistributed. We strive to uphold our values for every story published.