The rusty red corn dust that gathers in piles around a warehouse in East Lawrence is a growing nuisance, workers there say.
"It's like a snowstorm," said Robert "Flood" Wiseman, a warehouse supervisor at AB Coker Co., 1923 Moodie Drive, just north of the South Lawrence Co-op.
Wiseman said the dust has gummed up computers and car engines at the warehouse.
"I'm tired of breathing it, tired of getting it in my hair," he said.
Rob Smith, an assistant manager at the co-op, said the elevator isn't producing any more dust than it ever has. A dust control system takes care of most of the problem, he said, but it's inevitable that some will get out and float downwind.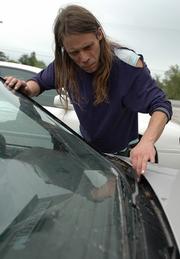 "It's a nuisance, but that's nature for you," Smith said.
In mostly rural Kansas, grain dust in the neighborhood of an elevator might seem to be a fact of daily life. But in urbanizing areas such as Lawrence, a little bit of nature can raise big concerns.
Wiseman said he complained Wednesday, to little effect, to county health authorities, asking them to investigate the situation. But a spokeswoman for the Lawrence-Douglas County Health Department told the Journal-World that such complaints should be directed to state officials.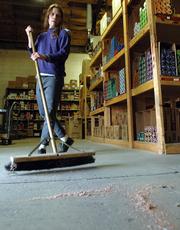 Sharon Watson, a spokeswoman for the Kansas Department of Health and Environment, did not know late Wednesday afternoon whether her office had received any complaints about the matter.
She said that elevators must be licensed for dust emissions; most elevators are inspected every one to five years, depending on its size.
Watson did not immediately know the results of any inspections at the South Lawrence Co-op. The agency does investigate complaints from the public, she said.
Smith said the dust was the residue of corn cobs. Such dust has been shown in studies to produce allergic reactions in humans.
Wiseman said he has been working next door to the elevator for six years, and that the corn dust had increased significantly in recent months. He said he had complained to elevator officials, to no avail.
"This stuff gets in our cars, it blankets the dock area for shipping and receiving," he said. "It banks like snow around the building."
Smith said the elevator had seen increased activity in recent days from the corn harvest - 40,000 bushels in three days - but that the dust control system seemed to be working.
He added, "I've been around with that stuff in the air a big chunk of my life, and it ain't hurting me."
Copyright 2017 The Lawrence Journal-World. All rights reserved. This material may not be published, broadcast, rewritten or redistributed. We strive to uphold our values for every story published.