Baghdad, Iraq — Despite continuing violence, Iraq's lively and colorful political campaign season was in full swing Saturday, with candidates using airwaves and the streets to grab voters' attentions in the weeks before the Dec. 15 parliamentary elections.
But the campaign season has been hampered by Iraq's ongoing bloodshed, including the drive-by shootings of four workers putting up campaign posters Saturday afternoon, the first known attack of the political season.
One person was killed in the shootings, police said, while the others were injured.
A wave of violence marred the run-up to Iraq's Jan. 30 parliamentary elections, with more insurgent attacks launched on the day of the vote than any other since the 2003 toppling of the Sunni-led government of Saddam Hussein.
Iraqi and U.S. officials hope that widespread participation of the nation's rebellious Sunni Arab minority in the upcoming vote might staunch the violence. But insurgents have been relentless.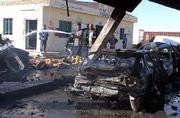 A suicide car bomber rammed a crowd of people Saturday at a gas station near the mostly Sunni Arab city of Samarra, killing at least five Iraqis and injuring 16.
Another car bomb in Baghdad's upscale Qadasiya district injured four civilians.
Insurgents killed a U.S. Army soldier during combat operations Friday in western Iraq, the military announced Saturday.
Meanwhile in Iraq's south, sectarian bloodshed continued with the reported killing of a Sunni cleric after his abduction by men suspected of belonging to Iraq's Shiite Muslim-dominated security forces.
The body of the cleric, a member of the Sunni Muslims Scholars Assn., was found near the English cemetery in the city of Basra on Saturday afternoon.
Copyright 2018 The Lawrence Journal-World. All rights reserved. This material may not be published, broadcast, rewritten or redistributed. We strive to uphold our values for every story published.