SACRAMENTO, CALIF. — Carrying rosary beads and cameras, the faithful have been coming in a steady stream to a church on the outskirts of Sacramento for a glimpse of what some are calling a miracle. A statue of the Virgin Mary they say has begun crying a substance that looks like blood.
It was first noticed more than a week ago, when a priest at the Vietnamese Catholic Martyrs Church spotted a stain on the statue's face and wiped it away. Before Mass on Nov. 20, people again noticed a reddish substance near the eyes of the white concrete statue outside the small church, said Ky Truong, 56, a parishioner.
Since then, Truong said he has been at the church day and night, so emotional he can't even work. He believes the tears are a sign.
"There's a big event in the future - earthquake, flood, a disease," Truong said. "We're very sad."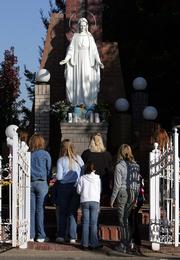 On Saturday, tables in front of the fenced-in statue were jammed with potted plants, bouquets of roses and candles. Some people prayed silently, while others sang hymns and hugged their children. An elderly woman in a wheelchair wept near the front of the crowd.
A red trail could be seen from the side of the statue's left eye to about halfway down the robe of concrete.
Thousands of such incidents are reported around the world each year, though many turn out to be hoaxes or natural phenomena.
The Diocese of Sacramento has so far not commented on the statue, and the two priests affiliated with the church did not return a telephone message Saturday.
Copyright 2018 The Associated Press. All rights reserved. This material may not be published, broadcast, rewritten or redistributed. We strive to uphold our values for every story published.