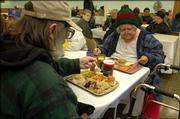 William Renfro considered his family at least 60 people strong Thursday for Thanksgiving dinner.
"I'm thankful that I'm alive and that I can see everybody having a good time today," said the 21-year-old homeless man, who indicated he was among friends at the Lawrence Interdenominational Nutrition Kitchen, 221 W. 10th St.
Renfro said he traveled between Lawrence and other places for work when he could get it. He was part of the first group to file into LINK for the traditional dinner of turkey, dressing, potatoes, pumpkin pie and other holiday treats.
Area churches donated the food.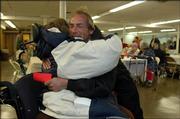 About 80 volunteers helped prepare the annual meal, said LINK coordinator Dianne Morgan. Several people carved turkey and helped serve all who filed through.
Morgan said LINK served 178 people Thursday.
"For me, this is what Thanksgiving is all about," she said. "Coming together and helping others. It's why I'm on this earth."
LINK will serve fresh meals from 1 p.m. to 2:30 p.m. Friday, Saturday and Sunday, Morgan said.
By 1:15 p.m. Thursday, one man had already found the piano and began to provide dinner music.
"The way I look at it, this is a big family right here," Renfro said.
Copyright 2018 The Lawrence Journal-World. All rights reserved. This material may not be published, broadcast, rewritten or redistributed. We strive to uphold our values for every story published.