Three numbers, all in a row and interrupted by a decimal, represent perfection in gymnastics. So it seemed right that what was, according to Lawrence High's records, state title No. 100 for the school should come in that sport.
Imperfections, injuries and the accompanying limitations needed to be overcome for LHS to win a state title that seemed so unreachable. So when giving thanks today for the cool things in Lawrence sports, don't forget the LHS gymnasts, winners of the past two state titles, Nos. 99 and 100, the latter coming the day Kansas defeated Nebraska on the football field.
It was as if a perfect storm of events had to blend to reach No. 100, a figure that represents perfection in sports and elsewhere. The perfect field-goal percentage is 100, the greatest single-game achievement in sports history was Wilt Chamberlain's 100 points in an NBA game in Hershey, Pa., and the perfect test score in any subject is 100.
The odds, at times, seemed to be 100-to-1 against them.
Theirs is a story of determination, and an illustration of what can happen when the adults let the children play, let them find their own way to achieve goals.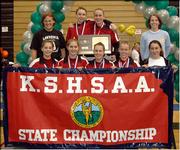 The first piece of the puzzle fell into place when Lindsey Fisher convinced friend Abby Jones to come out for the team, even though an injury prevented her from arching her back and limited her to just two events, the uneven bars and balance beam. On the club circuit, Jones had placed first in regionals and despite competing with excruciating back pain, 16th in nationals, before being diagnosed with an injury that left her in a back brace for three months.
Even competing in just two events, Jones helped, but still the Lions lost to Olathe East by one-and-a-half points at the Sunflower League meet and two points, the equivalent of a blowout, at regionals. Fisher again convinced Jones to push the envelope. While over at Jones' house, Fisher suggested Jones compete in the vault, even though she hadn't thrown one in more than a year. For a week, the two girls drove to Kansas City, rented gym time and learned a new vault.
The story making the rounds among gymnastics enthusiasts is that during warmups at Free State High on the Friday before the state meet, Jones threw a vault and Olathe East girls, former teammates of hers in club gymnastics, looked at each other with expressions that said: "Oh no!"
What we're thankful for: The Journal-World sports staff expresses its gratitude regarding the local sports scene
Still, with so much ground to make up, Fisher coming off a strength-sapping flu, and Kara Kellison and Mallory West battling injuries, the odds were long.
The girls knew their best wasn't good enough, so they got better, teaching themselves new tricks. In a sport where each competitor is on her own in each event, they exhibited teamwork, each coming through in the clutch. Jones not only vaulted, she contributed her school's best score in the event. Most of the LHS girls fell on the beam, putting pressure on individual state champ Mallory West to save them. She did. In the uneven bars, Kellison took third, West second with a new trick, Jones first. After Fisher and West contributed clutch floor exercise efforts, it was on Kellison to perform great in the event and she did, getting the team's highest score.
They did it. They are state champs. If you're scoring at home, give them 100 out of 100.
Copyright 2018 The Lawrence Journal-World. All rights reserved. This material may not be published, broadcast, rewritten or redistributed. We strive to uphold our values for every story published.