"Five hundred twenty-five thousand, six hundred minutes."
These opening lyrical lines of "Rent" also seem to describe how long it takes for a viewer to sit through the movie.
Hollywood's interpretation of the hit Broadway musical is a failed lesson in clock management - not just in terms of the film's excruciating length, but its timing in general.
"Rent" might have enjoyed some dramatic impact if the cinematic version had come out closer to when the original 1996 show debuted. In 2005, the enterprise comes across horribly dated, both topically and compositionally.
The filmmakers aren't even sure what timeline they're dealing with, anyway. The characters clearly spell out that the story begins on Dec. 21, 1989. But then one delivers a "Thelma & Louise" reference - despite the fact that Oscar-winning effort didn't get released until May of 1991.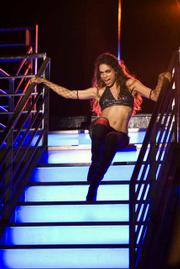 Director Chris Columbus tackles his first project since overseeing the first two "Harry Potter" adaptations. Apparently, none of that magic rubbed off on him. Despite plenty of camera tricks and elaborate set pieces, his production is curiously lifeless and stagebound.
Columbus and screenwriter Steve Chbosky don't veer much from the plot of the play. "Rent" follows the year in the life of eight friends in the East Village section of New York City. Among the group are a fledgling filmmaker (Anthony Rapp) who is roommates with a washed-up rocker (Adam Pascal) hoping to write the one song that will bring him glory; a computer expert (Jesse L. Martin) infatuated with a drag queen (Wilson Jermaine Heredia); a stripper (Rosario Dawson) and an ex-roommate who is now their landlord (Taye Diggs).
Of the principal cast, only Dawson really resonates. She is fast becoming a significant actress who is consistently stuck in terrible movies. For every decent role such as "Sin City" or "25th Hour," she appears in trash like "Alexander," "Josie and the Pussycats" and "The Adventures of Pluto Nash."
The native New Yorker provides a needed spark to the film. Dawson also has the most agreeable voice - one far less vibrato-laden and show-tuney than the six members of the original cast who reprise their roles onscreen.
Movie
Rent
* 1/2
"Five hundred twenty-five thousand, six hundred minutes." Those are the opening lyrical lines of "Rent," yet they also seem to describe how long it takes for a viewer to sit through this movie. Hollywood's late-to-the-table adaptation of the hit Broadway musical comes across as horribly dated, both topically and musically.
Get movie listings, reviews, and more at lawrence.com
-->
-->
Even with Dawson's input, it's hard to take "Rent" seriously. The whole venture is so hokey. It doesn't help that the story's "serious message" has been the butt of inspired mockery. Seeing the ex-"rock singer" Pascal deliver his HIV-oriented laments, it's easy to conjure the image of the strikingly similar-looking lead puppet from "Team America: World Police," who is an actor starring in the hit musical "Everyone has AIDS." ("AIDS, AIDS, AIDS / Come on everybody we've got quiltin' to do!"). That parody brims with far catchier songs than the musical it is skewering.
The late Jonathan Larson's tunes in "Rent" go from mildly pleasant ("Seasons of Love") to forgettable ("I Should Tell You") to jaw-droppingly annoying ("Light My Candle" - which recalls that recent R. Kelly abomination where every mundane action is described lyrically). Only one track generates any palpable passion. "Tango: Maureen" is both an amusing commentary on the dance-like relationship two characters share with a flirty performance artist (Idina Menzel) and a well-choreographed, slightly surreal production number.
What guts the overall impact of these songs is that each one is rendered in a different musical style. It shifts from rock to gospel, Latin to '80s power ballad. This isn't variety; it's schizophrenia.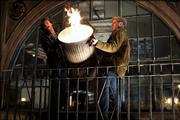 The characters are as compartmentalized as the music. None of them seem to really exist as a unit, so much as a random sampling of down-on-their luck New Yorkers who would never probably hang out together in the first place. Without generating a true emotional identity, their plight carries little weight. So when Heredia's character eventually succumbs to his medical afflictions, the audience feels nothing because he is only a hollow stereotype in the first place.
In the wake of Academy Award-honored musicals such as the visually dazzling "Moulin Rouge" and the sexy, energetic "Chicago," "Rent" is simply outclassed. A feature version of "Rent" may have been long overdue. But in the waning years since its inception, the price of what audiences expect from a Hollywood musical has gone way up.
Copyright 2018 The Lawrence Journal-World. All rights reserved. This material may not be published, broadcast, rewritten or redistributed. We strive to uphold our values for every story published.