New York — Mainstream artists have sold plenty of records while calling themselves "soldiers" - like 50 Cent, who titled a song "G-Unit Soldiers" in 2002, and Eminem, who put a track called "Soldier" on a recent album.
So you would think an actual soldier could make a killing off club bangers, using snippets of his memories of fighting.
Not rapper Emmanuel Jal. The former child soldier in Sudan has taken the opposite approach from his American counterparts. Despite carrying a rifle in Sudan's civil war for four years, according to the English translations of his lyrics, he never once mentions shooting people on his album "Ceasefire," released in the U.S. last month.
On the other hand, we tried counting all the references to shootings on 50 Cent's latest album, "The Massacre," but stopped when our hands cramped from making so many tally marks. No rappers took combat more seriously than the posse from No Limit Records. On one track from the label's late-90s heyday, C-Murder shouted he was a "soldier!" packing "solid gold tanks and multiple missiles." The song even guest-starred a rapper named Soulja Slim. (Five years later, C was convicted of second-degree murder, and Slim was shot to death.)
Considering how music buyers have rewarded fake soldiers for violent story telling, Jal seems to be squandering a dream scenario by promoting peace and rapping about Christian themes.
But so far, his formula is working. He captured a No. 1 hit in Kenya, performed at Live 8 and has earned airplay on radio stations in England. The British media, which apparently knows the landscape of African pop better than this reporter, has hailed Jal as one of that continent's rising hip-hop stars.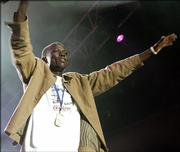 So are American listeners ready for rhymes repping the Sudan?
The short answer is yes - if they are fans of World Music. While adventurous hip-hop fans could definitely appreciate the similarities between Jal's beats and those of Caribbean imports like Sean Paul or Elephant Man, it would be hard for mainstream rap fans to get past lyrics rendered predominantly in Nuer, Dinka and Arabic.
On "Ceasefire," the Jal-penned songs are layered with African percussion, breezy synthesizers and the occasional flute riff. A few, such as his Kenyan smash "Gua," feature funky guitar riffs reminiscent of New Orleans funk band the Meters or P-Funk. Overall, the beats are less aggressive than those found in American hip-hop.
"Nyambol" is his answer to Tupac's "Brenda's Got a Baby," with its midtempo beat, pensive synths and lyrics about a young teenage girl who escaped an arranged marriage. Sonically, you could call "Gua" Jal's answer to Fitty's "In Da Club," but the lyrics are more concerned with exhorting peace than offering groupies the drug ecstasy:
"It will be good when there'll be peace ... Not one sister will be forced into marriage/And not one cow will be taken by force," reads the English translation of the song's lyrics.
It's worth noting that while Jal himself avoids rapping about his military past, his handlers have no such problem hyping it. The phrase "child-soldier" is found less than 20 words into the body of a press release touting his new album, and the phrase is striped across the top of a separate biographical sheet given to reporters.
According to the biography, Jal's mother died when he was 7, and that same year he was abducted by Sudanese rebels, trained as a soldier and forced to join in battles. Four years later, a British aid worker met Jal in a rebel camp, persuaded his leader that he was too young to fight and later smuggled Jal into Kenya among luggage on a plane.
While Jal owes his popularity in the African music world to a buttery, staccato vocal delivery, his international celebrity has been largely fueled by his compelling backstory. Much like Jal's publicists, headline writers have surmised that readers will be drawn to the story of a fighter turned hip-hopper.
Copyright 2018 The Associated Press. All rights reserved. This material may not be published, broadcast, rewritten or redistributed. We strive to uphold our values for every story published.