LEAWOOD — When it comes to outsider art, DaeRa and Don Graden are about as far out as it gets.
Nearly everything that comes in the front door of the eccentric couple's 100-year-old farm house ends up in a colorful project of some sort. They make magnets, 3-D collages, jewelry and masks. Even their kitchen cabinets are decoupaged in mystical images and psychedelia.
No object is too pedestrian for their art; whatever they come by cheaply and easily is fair game.
"I've always collected unusual stuff," Don says. "We've been known to walk around a drive-in parking lot and pick up smashed bottle caps.
"It's seeing the possibility in the unusual."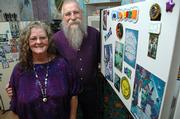 Evidence of that creative vision populates every surface of the Graden's rural Linwood home. A handful of tiny people made from twisted paper clips await adornment next to a few already dressed in fabric swatches and decorated with beads and feathers. A digitally altered photo of a cat peers from a magnet that's been dotted with glitter paint for an out-of-this-world effect. A gourd that looks like a swan lies near a file cabinet full of flatware destined to become wind chimes.
"Pretty much anything to us is art," DaeRa says.
The duo will be selling their zany creations Saturday at the Bizarre Bazaar. The 16th annual event, complete with food and live music, will run from 9 a.m. to 5 p.m. at the Lawrence Arts Center and feature more than 100 area artists.
Past Event
When: Saturday, November 26, 2005, 9 a.m. to 5 p.m.
Where: Lawrence Arts Center, 940 New Hampshire St., Lawrence
Cost: Free
-->
-->
The Gradens aren't strangers to the bazaar. They first exhibited three years ago after one of the show's organizers spotted them at an art fair in De Soto.
"They had a lot of shiny and flashy-colored art," says Jennifer Wingo, head of the bazaar's advertising committee. "Here in De Soto there's more conservative kinds of crafters, and they didn't look like they quite fit in. I just asked if they'd ever heard of the Bizarre Bazaar."
"I guess we were bizarre enough to be in it," DaeRa says.
Starry-eyed dreamers
The Gradens call their business In Tu It Arts, a name that taps into one source of their visual style. Both are into astrology, and the symbols of that school of thought crop up in their work.
Suns, moons and stars. Animals and nature elements. Signs of the zodiac (she's a Pisces; he's a Virgo).
DaeRa's been reading stars and planets since she was 6, when she checked out a library book on moon sign astrology.
"I was trying to figure out how to get my family to put the fun in dysfunctional," she recalls. "I wanted to know why they were living together when they didn't like each other. I was on a mission to figure out how people get along."
When their acquaintances are looking for answers, Don and DaeRa turn to what they call color harmony. Their studio shelves are lined with boxes of supplies and trinkets sorted by hue. They ask their friends to pick three colors and a favorite metal, and then incorporate the materials into an art project.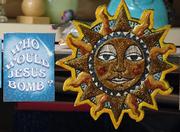 "Most of the time, people come because they're stressed and they want calm," DaeRa says. "When you take specific colors and blend them, it works on an internal energetic level."
"Red's generally associated with anger and green with healing, that sort of thing," Don says. "The color can change the energy of the person, make them calmer, more excited, whatever. It's an intuitive kind of thing."
Juan Reyes, an assistant manager at Moon Marble Co. in Bonner Springs, where DaeRa worked for about a year to help make ends meet, says he feels connected to the colors DaeRa used in a collage that now hangs in his Kansas City, Kan., home.
What he remembers most about working with her, though, was her creative eye.
"I would have pricing gun sticker wrap and it was all in a roll that was curly and bouncy. She was like, 'What are you going to do with that?'" he says. "And the next thing you know she'd turned it into a cat toy with colors and feathers and all sorts of things."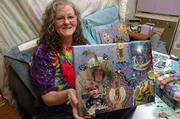 'Our life is art'
The Gradens - Don's 57, DaeRa's 55 - share their home with two canaries, two cats and two dogs. Their grandkids love to visit. And how could they not? Last Christmas, Don and DaeRa let them dress up in apparel from their outlandish clothing collection, took their photos and put them on magnets that are scattered throughout the house.
More photos, adages and doodles are plastered on the door of their studio, which serves as an upright family album.
"My mother used to keep all our family photos in a shoebox in the attic," DaeRa says. "We don't do that; it's on the door."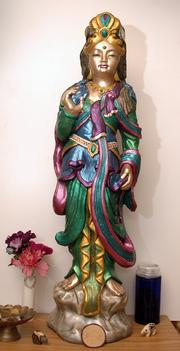 DaeRa spends her days dreaming up and creating these kinds of unique projects, while Don crafts high-end cabinetry for a small company called Polivka in Kansas City, Mo. He also makes displays for he and his wife's artwork.
Magnets will make up most of their stock at the Bizarre Bazaar. The Gradens order sheets of magnet in bulk and create designs on cardstock that they fix to the magnets and shellac into place. The finished products bear sayings such as: "I don't do DOG-ma. I'm a cat," "Drink coffee. Do stupid things faster with more energy" and "Who would Jesus bomb?"
Neither of the Gradens has any formal art training, though DaeRa has studied floral arranging and Don has 30 years of hands-on experience as a craftsman. But that hasn't slowed down the self-described hippies.
"Our life is art," DaeRa says. "We see it everywhere."
"The Bizarre Bazaar, in my thinking, is kind of a forum for outsider artists," Don adds. "And we're about as far out as you can get."
Contact the artists
Don and DaeRa Graden, of rural Linwood, work on commission through their business, In Tu It Arts. They can be reached at (913) 301-1111.
Copyright 2018 The Lawrence Journal-World. All rights reserved. This material may not be published, broadcast, rewritten or redistributed. We strive to uphold our values for every story published.