Oprah Winfrey gave women and Nordstrom stores everywhere a lift this week.
The media mogul Tuesday aired "Oprah's Bra and Jean Intervention," a show that declared women everywhere were likely wearing (gasp) the wrong bra and the wrong jeans.
Seattle-based Nordstrom helped transform her television studio into the Oprah Bra Boutique for the show, flying in 35 professional bra fitters from its stores and a selection of some 8,000 bras.
After Nordstrom's "bra brigade" helped fit the 240 audience members, 94 percent of whom Oprah said were wearing the wrong size, she intoned to her viewers: "If you're watching around the country and you want to know where to go, go to a Nordstrom's nearest you. They're trained to do the fittings."
Since the show aired nationally, the number of bras sold at the upscale retailer has increased 189 percent compared with the same period a year ago, Nordstrom spokeswoman Deniz Anders said. The company also has seen an uptick in designer-jean sales.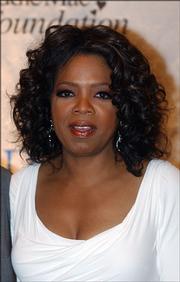 Oprah conducted her own jean intervention on the show, trying on several pair before choosing AG's "The Club" stretch jeans. Nordstrom typically sells a dozen pairs of the style each day. It sold 260 pairs at $136 apiece the day the show aired, Anders said.
The "Oprah effect" is nothing new. Oprah's Book Club was credited with reviving the book industry.
Brigham Young University economists released a study in December that measured the staying power of Oprah Book Club titles on USA Today's list of the top 150 best-sellers.
BYU economist and lead author Richard Butler, whose findings appeared in the journal Publishing Research Quarterly, found Oprah's selections sharply increased sales of individual books.
At a Bellevue (Wash.) Chamber of Commerce luncheon Wednesday, panelists from Tiffany, Crate & Barrel and Nordstrom each spoke about how a mention on Oprah's show immediately lifts sales.
Traci Heitz, a Container Store executive, said it sold out of an item featured on an Oprah holiday segment.
"She's like God," Heitz said.
Copyright 2018 The Lawrence Journal-World. All rights reserved. This material may not be published, broadcast, rewritten or redistributed. We strive to uphold our values for every story published.