Busan, South Korea — For President Bush, there's no respite from Iraq. Even traveling in Asia, he's had to deal with an Iraq rebuff from a friend, South Korea, and with turmoil over his policies back home.
Criticism of the war in Congress and calls for a pullout of American troops have drawn a no-holds-barred verbal counterattack from the traveling White House.
"In Washington, there are some who say that the sacrifice is too great and they urge us to set a date for withdrawal before we have completed our mission," Bush said today in remarks prepared for a speech at Osan Air Base, headquarters for the 7th Air Force, the primary U.S. Air Force unit in Korea.
"We will fight the terrorists in Iraq and we will stay in the fight until we have achieved the victory our brave troops have fought and bled for."
The harsh words from home were compounded Friday by unwelcome news both in Iraq and here.
In Iraq, suicide bombers killed scores of worshippers at two Shiite mosques near the Iranian border, while a pair of car bombs targeting a Baghdad hotel housing Western journalists killed more Iraqis.
South Korea, meanwhile, announced it would withdraw about 1,000 of its 3,200 troops in Iraq next year.
The move caught the White House by surprise. "They have not informed the United States government of that," said National Security Council spokesman Frederick Jones. He said President Roh Moo-hyun had not broached the subject with Bush when the two met just a day earlier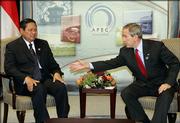 National Security Adviser Stephen Hadley said Roh had told Bush that South Korea remained committed to Iraq and would continue to provide troops. Hadley said the withdrawal announcement from the defense ministry was not the last word and the issue still had to be settled by the National Assembly next week.
The White House, with its Iraq policy under siege, has mounted a counteroffensive that resembles a bare-knuckles political campaign. It features fast responses and sharp retorts - from Bush traveling in Asia and from Vice President Dick Cheney and others in the United States - to accusations that the administration manipulated intelligence and deceived the nation in a rush to war.
The increasing acrimony comes with the death count of U.S. troops in Iraq climbing above 2,080 and the president's approval ratings at the lowest of his presidency. Americans' perceptions of Bush's honesty and faith in his ability to fight terrorism also have slipped to their lowest point in the AP-Ipsos poll.
The Iraq war has dogged him. He continues to be questioned about it on Asia stops. And war protester Cindy Sheehan, whose son was killed in Iraq, says she will resume her vigil next week outside Bush's Texas ranch, where the president is spending the Thanksgiving holiday.
Copyright 2018 The Associated Press. All rights reserved. This material may not be published, broadcast, rewritten or redistributed. We strive to uphold our values for every story published.