Manhattan — Saying he wanted to spend more time with his family, Bill Snyder retired Tuesday from the Kansas State program he coached from college football's depths to a spot among the nation's elite.
The 66-year-old Snyder, Kansas State's coach since 1989, said health was not a factor.
"As far as I know, my doctor has not complained - well, he's complained about some of my habits," Snyder said. "But to my knowledge, I'm physically fine."
Athletic director Tim Weiser said no timetable had been set for choosing Snyder's successor. Snyder, who signed a six-year contract extension in 2001, will remain under contract as the football coach until his successor is hired.
After that, he will stay on as a special assistant to Weiser, the school said.
With Kansas State failing to qualify for a bowl for a second straight year, Snyder's final game will be Saturday against Missouri. The stadium would be renamed Bill Snyder Family Stadium, the university said.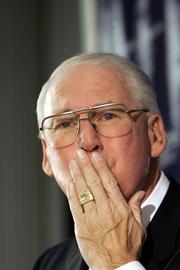 "Family" was a common theme during Snyder's news conference, with the coach repeatedly fighting back tears almost every time he said that word.
And although Snyder's health might not be at issue, he talked several times about the toll his schedule - long hours spent at the office, breaking down film and preparing game plans from the predawn dark to late at night - had taken on his family life.
"I've not been the kind of father that I should have been, and the kind of husband," said Snyder, who has five children and eight grandchildren.
When Snyder took over the Wildcats' program, Kansas State was the only major-college team with 500 losses.
He is 135-68-1 in Manhattan, including a run of 11 straight bowl games that began with the 1993 season. But after winning the Big 12 Conference championship in 2003, Kansas State has stumbled to two straight losing seasons.
Kansas State, (4-6, 1-6 Big 12) has failed to qualify for a bowl game for the second straight year, the first time since 1991 and 1992 that KSU missed bowl games in consecutive seasons.
Snyder went 1-10 in his first season, but his team steadily improved. In 1993, the Wildcats appeared in a bowl game for the second time in school history, defeating Wyoming in the Copper Bowl.
By the late 1990s, with Michael Bishop at quarterback, they were a national-championship contender.
Snyder had his team on the brink of playing for a national title in 1998 before Texas A&M; upset the previously undefeated Wildcats in the Big 12 championship game. Kansas State then opened 9-0 the following season before being routed at Nebraska.
Stepping away after a successful season would have made things harder on his successor, Snyder said Tuesday. But with 18 starters scheduled to return next year - although some of them could transfer - Snyder said he was leaving the next coach in a better situation than the one he inherited in 1989.
"Some of the glow is off the program," he said. "The expectations are not going to be quite so high. But this can be a good program. The foundation is there."
Freshman quarterback Allan Evridge, who won the starting job at midseason, agreed.
"I feel a good coach can come in and get this thing rolling right away," said Evridge, who learned of Snyder's decision in a team meeting Monday night. "This year didn't play out the way we wanted it to, but there's a great future and a lot of promise."
That didn't make Snyder's decision - or his contention that the program would be better off in other hands - any easier to take, university president Jon Wefald said.
"There is nobody else in this room, and certainly nobody in this administration that shares his belief," said Wefald, who was president when the former Iowa assistant was hired in 1989. "Our thought would be that he would continue on for months and years to come."
Copyright 2018 The Associated Press. All rights reserved. This material may not be published, broadcast, rewritten or redistributed. We strive to uphold our values for every story published.