When Karin Feltman's friends ask about the three weeks she spent tending victims of Hurricane Katrina, they often assume conditions aren't as disastrous now as they were 10 weeks ago when the storm hit.
But conditions along the Gulf Coast remain dire, said Feltman, an emergency room nurse at Lawrence Memorial Hospital.
"If you haven't been there, you have no conception of the destruction," she said. "All of us need to realize it's going to be years before these people's lives get back to normal. Some never will."
Feltman returned from Long Beach, Miss., on Oct. 7. Her friends Bert and Vickie Hull spent nine days in Hancock County, Miss. They returned Sunday.
"With the exception of the roads being cleared, it looks like it just happened - people without electricity, people without water, people without a place to live," Vickie Hull said.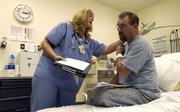 Kansans, she said, should not confuse a tornado's wrath with Katrina's fury.
"We have no idea. We don't have the frame of reference," she said. "This was a 300-mile-wide swath of destruction. It looks like a totally bombed out Third World country."
And while most tornadoes last a few minutes, Hull said, Katrina's survivors told of being in "sheer terror" for 12 hours.
"I talked to a couple with a young child that swam from rooftop to rooftop for five hours in the dark," Hull. "They'd get swept off one roof and swim to the next."
'Everything gone'
Feltman and the Hulls are just a few of a growing number of Douglas Countians who have returned from hurricane relief efforts in recent weeks.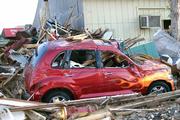 Jim Denney, director of emergency communications for Douglas County, spent six weeks in Hancock County. He arrived Sept. 19.
Hancock County "was the hardest of any of the communities that Katrina hit," he said, noting that 78 percent of all structures in the county were destroyed outright; 98 percent were uninhabitable.
"I like to think of myself as having seen a fair amount of disaster and a fair amount of the human condition during tough times. I didn't think it would be that much different," Denney said.
"But you just have to think of it as everything from Lawrence to Colby was gone - no grocery stores, no gas stations, no nothing. And then to think of it in terms of Douglas County: No police stations, no police cars, no fire trucks, no place for the government to meet, and half of the population leaves and then an equal number - or more than that - comes in to help."
Missions ongoing
The LEO Center, 1 Riverfront Plaza, will host an informational meeting at 7 p.m. Nov. 17 for people interested in volunteering for hurricane relief work. "The only thing we ask is that people realize we are a Christian organization and this is a Christian ministry," said Byron Edmondson, director of needs ministry. "Some people might not feel welcome with that." A group from the center will leave Lawrence on Dec. 10 for a week in Gretna, La. That roster is filled, but other groups will follow. A team from First United Methodist Church, 946 Vt., will leave Sunday for Hancock County, Miss. "We hope to send a group every six weeks for as long as they're needed," said Sara Wentz, director of discipleship ministries.
Denney was part of a team of 14 Kansans sent to the area as part of a mutual-aid program. Douglas County dispatchers Amy Hays and Jimmy Ramsey spent two weeks in Biloxi, Miss.
Before Katrina, Hancock County had three 911 dispatch centers when the storm began.
"Five hours later? Zero," Denney said. "Zero radio towers. No cell phones, no telephones, no radio stations. It makes you think about how really good we have it, and how quickly it can be taken away. It's kind of scary. You realize how fragile - you hear the term 'fabric of society,' and I never thought about that before. Now I do. You realize how fragile the fabric of society is."
Other stories
In mid-October, Andy Sampson delivered 250 "flood buckets," 50 cots, 35 sleeping bags and a "bunch of kitchen stuff" to Bay St. Louis, Miss.
"The thing I'll always remember is when daylight hit, you could see all the devastation," he said. "For two miles, every person I saw on the highway was pushing a grocery cart because all of the cars were gone. They'd gone to the Red Cross for food and clothing and were taking it home."
Byron Edmondson, director of needs ministry at the LEO Center, led an eight-member crew to the School of Urban Ministries in Gretna, La., a small town on the southern edge of New Orleans.
Local heroes
On Monday, Douglas County commissioners will recognize county employees who participated in hurricane relief efforts: ¢ Jim Denney, director of emergency communications ¢ Amy Hays, dispatcher ¢ Jimmy Ramsey, dispatcher ¢ Mike Perkins, director of operations for Douglas County Public Works ¢ Teri Smith, assistant director of emergency management ¢ Bill Brubaker, with emergency management ¢ Bud Waugh, with emergency management.
"I'm a Vietnam veteran," Edmondson said. "When I saw all the destruction, the military presence of the National Guard, and the helicopters going in and out, I thought I was in a war zone."
Sara Wentz, director of discipleship ministries at First United Methodist Church, joined five church members for five days gutting sludge-soaked homes in Hancock County. They returned Oct. 9.
"All of us, I think, came back deeply affected by what we experienced," Wentz said. "Essentially, we went in and tore people's houses down to the studs - a lot of the time while they were standing there in shock. It was a very personal, profound experience."
Edmonson said the disaster was a reminder that people close to home need help, as well.
"It's not just Katrina," Edmondson said. "But all of us need to remember that we have people right here in Lawrence who are in need, too. I see it every day."
Copyright 2018 The Lawrence Journal-World. All rights reserved. This material may not be published, broadcast, rewritten or redistributed. We strive to uphold our values for every story published.