B.J. Irvin's family members have made a decision they hope will allow her to keep helping people even after her death.
When the 51-year-old advocate for senior citizens died last week in a nearly head-on wreck on County Road 1029 just south of Lecompton, her organs were damaged and couldn't be used for donations. So family members decided instead to donate her tissues - her skin, heart valves, corneas, bones and connective tissue.
"I was told that it could benefit 60 to 100 people," said her husband, Michael Irvin, a graphic designer with University Relations at Kansas University. "I want to leverage this horrible tragedy that's happened."
Irvin said he also hoped to call attention to his wife's work as a case manager with the Jayhawk Area Agency on Aging, and planned to have a big barbecue on Aug. 6 at the family's home in Lecompton to celebrate her life.
"She was about people and about helping people," he said.
Family members were approached by a coroner shortly after B.J. Irvin's death about the idea of donating tissues. The coroner connected them with a representative of the Midwest Transplant Network, a Kansas City, Mo.-based not-for-profit organization that area hospitals are required to notify when someone dies.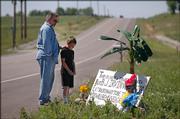 "He said, 'You can object to any of this,'" Irvin said. "I said, 'No, take anything, she'd want this.'"
Jan Finn, the network's chief operations officer, said that tissue donation often is overshadowed by high-profile organ transplants. About 70 percent of people agree to give their organs, but only 30 percent agree to give tissue, she said.
The first priority is for tissue to be used in transplants, but sometimes it's used for research if there's not a recipient who needs it. Virtually all of the skin donated eventually goes to living people, including burn victims in need of a skin graft, Finn said.
"What we do is we try to make sure that the patient's family is given all the options," she said.
Some tissues can be kept in storage up to five years, Finn said. She said the agency makes an effort to notify families of how the tissues were used.
Copyright 2018 The Lawrence Journal-World. All rights reserved. This material may not be published, broadcast, rewritten or redistributed. We strive to uphold our values for every story published.