New York — In May 2004, no one had heard of Wisteria Lane, now TV's go-to address for sexy suburban angst, and "Desperate Housewives" was just a pair of words.
And during a single week that May, Steven Culp both died (on "Star Trek: Enterprise") and was left for dead (on "JAG"). Now Culp lives to marvel at his transformative year on "Desperate Housewives," which has become a juicy topic on the lips of everyone, including First Lady Laura Bush.
"At first I thought, 'ABC is never gonna pick up this pilot,"' Culp recalls. "Then I thought, 'OK, they picked it up, but it's too quirky to succeed.' Then the critics gave it raves and I thought, 'Great, we'll get one or two seasons out of it and then move on, with the cachet of having been on this cool show.'
"I'm delighted to be so wrong!"
Plot thickens
As devotees eagerly await the season finale (airing at 8 p.m. today), they have long since set Culp straight. Some 23 million viewers each week have made the show a national phenomenon as they savor its lighthearted take on blackmail, murder, adultery and sisterhood.
This is a show that hooked America from its first-place premiere last October when, among many twists, its narrator gave a play-by-play of her own suicide.
Exactly why Mary Alice Young, the Desperate Housewife Emeritus of Wisteria Lane, put a bullet in her head will be explained on the finale. A new housewife, played by Alfre Woodard, will take up residence with her own set of secrets. A cliffhanger is promised. And another death.
So goes this kooky melange of melodrama, whodunit and dark comedy which, cooked up by series creator Marc Cherry, has seized the nation's eyeballs and imagination like no new show in years.
One easy reason why: the disparate desperate women of Wisteria Lane, who are bonded by proximity and gender as they represent a variety of female distress. (ABC's "Desperate Housewives" Web site offers a quiz to "see which Wisteria Lane housewife you are ... or which one is your perfect love match.")
The series has launched or resurrected (as the case may be) the actresses who play this lovely foursome - Marcia Cross, Teri Hatcher, Felicity Huffman and Eva Longoria, plus Nicollette Sheridan as the serial divorcee.
The doctor's take
But it's been pretty good, too, for the men of Wisteria Lane, including Culp, who plays Dr. Rex Van De Kamp, restless mate of obsessively perfect homemaker Bree.
"I look at the show as a comedy of manners," Culp said. "It's about the disconnect between the things people profess and the things they actually do."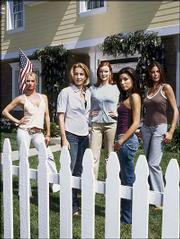 Examples: Rex and Bree (played by former "Melrose Place" vixen Cross), who "see themselves as morally upstanding," Culp maintains. "They go to church every week."
And yet, on that first episode, Rex told Bree he wanted a divorce. After that, he fell under the spell of the neighborhood prostitute - under whose spiked heel he had a heart attack. Now, as he recuperates under Bree's contemptuous care, Bree is stepping out with the local pharmacist (who may be trying to eliminate Rex by tampering with his heart medication).
Both in and out of the bedroom, Rex displays an appetite for being dominated. His submissive nature made it hard for Culp to figure out the character.
"In the beginning, I wasn't sure what I was supposed to be doing," he confides. "I would come in not quite knowing what I wanted in the scene. But then I realized my self-doubt was appropriate to the character, and not be scared of that."
The 49-year-old Culp, whose new film "The Sisters" was recently screened at New York's Tribeca Film Festival, is a stage and movie actor whose face, if not name, has been recognized by viewers for years. Besides recurring roles on "JAG" and "Star Trek: Enterprise," he also found time last season for multiple appearances on "ER" and "The West Wing."
Meanwhile, he aced the "Desperate Housewives" audition, then missed the all-important next step: a meeting with ABC brass. The day it was scheduled, he was filming his death scene as Major Hayes on "Enterprise." In his absence, another actor was cast as Rex.
But after the show won a slot on ABC's fall schedule, the role was re-cast. This time, Culp clinched it.
"I guess some things," he says, "are meant to be."
Things meant to be (at least in Nielsen-surveyed hindsight) include the success of "Desperate Housewives."
The series "rips the veneer off the myth of suburban domestic bliss," says Susan Douglas, professor of communication studies at the University of Michigan (and a "Desperate Housewives" fan).
In the process, she adds, the show punctures the notion that in a post-feminist world, "women have achieved full equality and can choose freely how they want to live their lives. The choices women make are anything but choices."
Copyright 2018 The Associated Press. All rights reserved. This material may not be published, broadcast, rewritten or redistributed. We strive to uphold our values for every story published.