With beach balls, Silly String, backflips, whoops, hollers and many words of wisdom, Lawrence students turned their tassels Sunday during graduation ceremonies at Kansas University's Memorial Stadium.
For the roughly 750 graduates, the future seemed as bright as the sunny skies.
"Look to the future," said Julia Szabo, who spoke at the Lawrence High School graduation. "We aren't even a quarter of the way done with our lives."
LHS recognized 385 graduates; Free State High School honored about 360.
Well-wishers wielded cameras and binoculars. Some carried flowers. Some blew airhorns.
As students lined up along the football field's sidelines, they experienced a wide range of emotions.
Jordan Born, a Free State graduate, was happy to be at the ceremony. Born's Eudora home was destroyed in a fire Saturday as he was preparing for a graduation party.
The school provided a new gown for him to wear. And he marched with his class, despite having second-degree burns on his arm.
"I should have a bunch of people here," Born said before the ceremony. "I'm looking forward to it."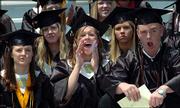 LHS graduate Kondja Kamatuka felt a bit numb as she prepared for her school's festivities.
"It hasn't really sunk in yet," she said.
Ditto for Jami Powell, another LHS graduate.
"It doesn't feel like we're done," Powell said.
For LHS graduate Veronica Pilshaw, the monumental change was disorienting.
"It feels like we're going to have summer and then go back (to school) again," she said.
Free State graduate Mary Noblitt felt the flutters of anticipation.
"I'm ready to move on to what's next," she said. "Senior year was the hardest because we were all ready (to graduate)."
Free State graduate Jason O'Bryon was relieved.
"I'm glad to be out of high school," he said.
Carl Cole, also from Free State, expressed glee.
"I'm free!" he said.
As they took their first steps on a new journey, was there any nostalgia for the past?
Not yet, said Ashley Hornberger, a Free State graduate. But maybe soon.
"It's going to be that night when you're in your dorm," she said, "and you're crying and you don't know why."
Copyright 2017 The Lawrence Journal-World. All rights reserved. This material may not be published, broadcast, rewritten or redistributed. We strive to uphold our values for every story published.