New York — Though the new "Star Wars" movie ends with Luke Skywalker as a baby, the Jedi knight grew up a long time ago.
Since immortalizing Skywalker, actor Mark Hamill, now 53, has spent most of his time working on Broadway ("Amadeus," "The Elephant Man," "Six Dance Lessons in Six Weeks") and doing cartoon voice-overs.
Last week, the DVD was released for 1980's "The Big Red One," the critically lauded Samuel Fuller war film Hamill co-starred in with Lee Marvin. Hamill directed his own movie in 2004, the fictional documentary "Comic Book: The Movie."
Later this year, Hamill hopes to begin production on "The Black Pearl," an adaptation of the comic book he created. He is currently setting up an animated series about a city apartment building, seen through the eyes of pets.
While in New York searching for animators for the show, Hamill took a moment to reflect on that galaxy far, far away.
Q: While you're in New York, will you visit the fans camping outside the Ziegfeld Theater?
A: I don't know. I don't want to upset them. I've always been sort of fascinated with that. I'll tell you, the very first time I ever experienced the phenomenon, the day ("Star Wars") opened in 1977, a car came to pick me up and take me to see the 35-millimeter version. ... I said to the driver, 'Can you go by Grauman's Chinese Theater, because I want to see what the marquee looks like.' I could not believe my eyes -- there were lines around the block. I thought it would be a hit, but I thought it would be by word of mouth. I didn't expect it on the first day.
Q: What were your expectations? They couldn't have been for it to turn out like it has.
A: No, of course not. But I was one of the optimist bunch and I'm on record predicting, 'This thing is going to make more money than "Planet of the Apes.'" I was looking at it from the standpoint of whether our options would be picked up to do parts II and III. And I said, 'There's no way this will fail' -- because it's got a sense of humor. It's the key element that most science fiction films don't have, which is a sort of arch sense of humor. Now, we're playing it completely straight, but it's inherently absurd. I mean, I can't tell you how much we laughed on the set to have Alec Guinness in a scene with a big, furry dog that's flying a space ship.
Q: What are your feelings about the movies finally ending?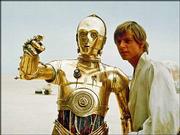 A: I've learned that the movies will never finally end. It just goes on and on and on and on. I mean, it's going to be in 3D, then it's going to be smellivision, then it's going to be a ride in an amusement park, then they'll come to your house and perform it with puppets on your lawn ... it'll never end. I accepted that a long time ago.
Q: Have you found it confining to be known primarily as Luke Skywalker?
A: Jackie Gleason had "The Honeymooners" -- there are other parallels to people that do things that sort of transcend everything else they've ever done. And you can either get frustrated and focus on the negative aspect of that or you can just let it roll of your back like water off a duck's back, laugh and move on. Because if I didn't believe that the most interesting challenges were ahead of me, I probably would retire. I've invested well, I'm not hurting for money. To me, 'Harrigan 'n Hart' (a musical Hamill starred in for its brief 1985 run) is one of the biggest triumphs of my career, and yet it was not considered a commercial success. But for someone like me who had never done a musical before to hold my own among people that had done 30 musicals, that really felt like an accomplishment to me. The Drama Desk nomination for best actor in a musical was just icing on the cake. Yea, I would have loved to have it run and maybe it would have changed my career because I love theater so much. I think theater has given me the opportunity to show what a character actor I can be.
Copyright 2018 The Associated Press. All rights reserved. This material may not be published, broadcast, rewritten or redistributed. We strive to uphold our values for every story published.