Typical of a show that succeeded in finding humor in the most unlikely domestic situations, the finale for TV's longest-running and highest-rated current sitcom is relatively low-key.
The final episode for "Everybody Loves Raymond" Monday will take up its usual half-hour -- and not be bloated into a full hour, as other celebrated comedy finales have been. (It will be accompanied, however, by the requisite hourlong retrospective).
The promotional hubbub over the end is relatively subdued as well, unlike the super-hyped yearlong farewells to "Friends" and "Frasier" a year ago.
Even the expectations for finale ratings are modest.
"Take the 'Seinfeld' finale's 80 million, and subtract the audience for the 'Friends' finale, 50 million, and that's our finale," says show star Ray Romano. "Thirty-million viewers."
He made his half-kidding prediction on a conference call to reporters last week during which he called the network hoopla over Monday's finale quite sufficient.
"The hoopla is good," Romano says, before realizing, "This is the hoopla, isn't it, Phil -- the phone interview?"
Romano was sharing the line with show creator Phil Rosenthal, trading slow-burning, self-deprecating jokes, just as he had the past nine years in developing the story of Ray Barone and his family, whose meddling parents live across the street.
"For the first time, we're going to be on a few magazine covers," Rosenthal says, including the current ones for TV Guide and Entertainment Weekly, their first. "It took us dying for us to get that."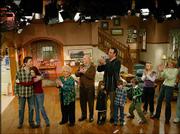 Just as it took time for "Raymond" to find its audience.
"It wasn't the buzz show," says Romano, who based the series -- which began in 1996 -- on his stand-up comedy. "It wasn't the water-cooler show. It wasn't sexy and flashy and young."
But it did have a fan in CBS chief Les Moonves and some enthusiastic reviews.
"The only reason we survived the first season is because the critics loved the show," Rosenthal says.
Even so, "No one got nominated for an Emmy by year four," Romano said.
But through nine years and 210 episodes, "Everybody Loves Raymond" eventually snared a dozen Emmys and 65 nominations. And it ends its run as just about the only successful family sitcom on TV, averaging 17.1 million viewers, the only comedy in the Top 10 and one of just three live-action sitcoms in the Top 50.
For Monday's final episode, writers didn't have to scramble to figure out how to end things.
"I wrote the story for the finale a year-and-a-half ago," Rosenthal said. "I never thought we'd go past the seventh season. But I knew it was a good final story. So I kept it in the drawer until we were ready and brought it in the room when we were ready."
Still, he doesn't want to even hint at what tone it will take.
"We wanted a great episode to go out on. We want to leave it at that," he said. "Anything more that we would say will tip things. And part of telling a good story is surprising people with what goes on."
For his part, Romano has denied there will be any sappiness to the final episode.
Sappy or not, it was tough to avoid emotion on and off the set when the finale was shot.
"There were tears the whole two weeks it took," Romano said. This on a comedy that usually takes a week to shoot an episode. "There were two weeks because Patty Heaton had laryngitis the day we were supposed to shoot. Patty was emotional from the beginning. She was crying at the table read."
Heaton, who plays Romano's wife on the show, said the week of the shooting, "It's too big, and I'm not going to be able to deal with it, and I'm going to be shutting down."
"At curtain call, it got emotional for a lot of people. My own kids, who are 11 years old, got emotional. That surprised me," Romano said. "But they've known this show for their whole life. That kind of hit hard, thinking of it through their eyes, that this part of their world was ending."
For fans, "Raymond" will continue as long as there is a demand for reruns. Its syndication version runs daily on 191 stations -- covering 98 percent of the United States.
But the end of new episodes of just about the only successful half-hour comedy on TV begs the recurring question about the future of the sitcom.
"It's always been tough to get a comedy on-air and make it work. There's less of a chance now," Rosenthal says. "We weren't dealing with reality television when we started, so there are less spots on TV, I guess. But it's all about the quality.
"It is cyclical," he said. "Everything is dead until the next hit comes along."
Copyright 2018 The Lawrence Journal-World. All rights reserved. This material may not be published, broadcast, rewritten or redistributed. We strive to uphold our values for every story published.