A massive downtown fire earlier this month in Fort Scott should set off warning bells for Lawrence leaders, several city officials said.
The March 11 fire in Fort Scott destroyed 10 downtown buildings ranging in age from 100 to nearly 145 years old. When Lawrence Fire Marshal Rich Barr heard the news, he imagined the same disaster in downtown Lawrence.
"The potential is very similar," Barr said. "I saw that scene and the thought that went through my mind was 'What would we do if we had a loss like that?'"
Like Fort Scott, Lawrence's downtown is full of buildings more than a century old with shared walls and flammable, aging timber. There's another similarity: The vast majority of buildings don't have sprinkler systems.
City Commissioner David Schauner said that was something the city could change.
"There is no need for us to wait and have another wake-up call of our own," he said. "I hope they recover down there in Fort Scott, but I think they are in for a long, hard pull to rebuild, and I think we would be in the same situation."
Schauner said he wanted city commissioners to consider providing financial incentives for downtown business owners to install sprinklers in their buildings. Community Development Block Grant money might be available to create a low-interest loan program, or there might be ways for the city to give tax breaks for businesses that add sprinkler systems.
"I don't know all the details, but I think we're creative enough that we ought to be able to find a way to provide some assistance," Schauner said. "The Fort Scott fire can be our wake-up call. The fire at the Sunflower (Outdoor and Bike Shop) building several years ago should have been our wake-up call, but it wasn't."
The February 1997 blaze at Sunflower, 802-804 Mass., caused more than $1 million in damage. But firefighters contained the fire by calling in assistance from Overland Park and Lenexa fire departments and pumping thousands of gallons of water into neighboring buildings to stop the flames.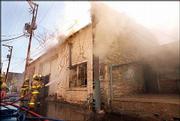 After the Sunflower fire, the City Commission considered requiring downtown basements to be equipped with automatic fire sprinklers. But some downtown business owners opposed the proposal, saying they'd get hit with bills of at least $16,500 to get the jobs done.
Protect, preserve
Carol Francis, owner of the House Building at 729 and 731 Mass., said an incentive program for sprinkler installation would be welcome. Late last year she spent nearly $13,000 to have about 4,000 square feet of her building equipped with sprinklers.
"Most business owners just throw up their hands and say they can't afford to do that," Francis said. "I felt like I couldn't afford not to do it.
"This is a historic building, and I don't want it to go up in flames. You can't rebuild an old building. You have to preserve what you have."
Craig Snider, a designer with Olathe-based General Automatic Sprinkler Co., said costs to add a sprinkler system to an old building varied from about $3 to $5 per square foot. That would mean the owner of an average-sized downtown building would spend between $9,000 to $15,000 per floor to add sprinklers. But Snider said the sprinklers were effective at stopping a fire from spreading to other buildings in a block.
"Sprinklers would have saved that downtown in Fort Scott," Snider said. "It would have put the fire out where it started. They would have suffered a couple thousand dollars in water damage, but that would have been it."
Barr has been preaching the value of sprinkler systems for years. He said property owners could install sprinklers and save money on their insurance premiums, but that hadn't been enough to convince many business owners to make the investment.
Proactive step
City officials might be able to help as they install new water lines in downtown each of the next three summers. Barr said the city had discussed installing taps in the line that would make it easier for business to eventually hook a sprinkler system into the line. Francis said she spent an additional $5,000 or so to make a connection into the city's water line.
Roger Coffey, director of utilities for the city, said adding taps wasn't in the plans for the water line project scheduled to begin next month. But Coffey said he expected the idea to be discussed as part of the planning for downtown water line projects scheduled in 2006 and 2007.
City commissioners want to see what they can do to help but realize they must fit any program into an already tight budget.
"What I don't think we can do is mandate they be installed," City Commissioner Boog Highberger said. "That would be too much of a burden to too many people. But it is an issue we should be proactive on."
Copyright 2017 The Lawrence Journal-World. All rights reserved. This material may not be published, broadcast, rewritten or redistributed. We strive to uphold our values for every story published.