The suspicions began almost immediately.
The first time Thomas E. Murray saw his former in-laws after the murder of his ex-wife, Carmin D. Ross, it was Nov. 16, 2003, two days after her body was found. The Ross family counted at least 16 odd statements they say he made to them.
My fingerprints are going to be under the coffee table.
My DNA will be all over her home.
It'll never be solved.
Could she be on drugs?
"I've had a lot of anger toward Tom because I thought he was guilty all along," said Ross' father, Danny Ross.
After a jury on Thursday convicted Murray of first-degree murder, the Ross family spoke publicly for the first time about the facts of the case and about their feelings for Murray.
Ross' mother, Judi Ross, said there was a simple reason Murray never has shown remorse.
"Because he thought he was right," she said. "I think in his mind, when he killed Carmin, he won."
The family also described their relief that they, not Murray, will raise Murray and Ross' 6-year-old daughter, Ciara. The girl will live with one of Ross' three sisters, but it hasn't been decided which one.
During the trial, Ciara has been staying with extended family in Indiana. Family members told the girl they were in Lawrence for "family business."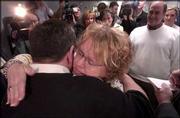 They said they were not sure what they would tell Ciara about the outcome of the trial, but a psychologist has told them it was important not to lie. When Murray was charged, their explanation to Ciara was that police thought her daddy might have been the person who hurt her mommy.
One of Carmin Ross' sisters, Heather Bowman, said Ciara recently told her she had three main "mysteries" in her head.
The first was, "Who hurt my mommy?"
The second was, "Did my daddy do it?"
The third was, "Is he a good person or a bad person?"
Despite their strong feelings toward Murray, members of Ross' family say they've been careful not to say bad things about him in front of Ciara.
The Rosses said Murray used to demonstrate how he wanted his life to be by extending his index finger and moving it in a flat horizontal line. They said he described his life as "heaven on earth" and never wanted to have children.
In summer 2003, Ross -- a self-described "recovering attorney" with an interest in alternative healing -- decided to divorce Murray and later to fight him for custody of Ciara. Murray blamed Ross for ruining his life, family members said.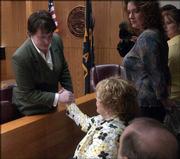 Looking back on it, family members said, they believe Murray plotted the murder for months. Judi Ross said that when she saw Murray in September 2003, it was the first time in the nearly two decades she'd known him that he didn't look her in the eye.
Family members said they had no doubt Murray was guilty. They based their feelings in part on his statements to them -- many of which weren't used in court -- and his 9 1/2-hour videotaped statement to police.
"Tom is an introvert who says very little," Danny Ross said. "When you watched that video, he was nonstop."
Ross' sister Samantha Fabbri described feeling a twinge of sympathy for Murray as she watched him walk out of court Thursday.
"I'm devastated for him, actually, in a really weird way," Fabbri said.
To Bowman, the hardest thing about the family's ordeal has been "having Carmin gone and knowing that someone we loved took her."
Copyright 2018 The Lawrence Journal-World. All rights reserved. This material may not be published, broadcast, rewritten or redistributed. We strive to uphold our values for every story published.