With the swirl of marketing surrounding the DVD arrival of Pixar's "The Incredibles," not buying it almost seems like a heroic act. Target is giving away free sparkling water with purchase; Circuit City tosses a kid-size "Incredibles" basketball to anyone who snags the coveted release; and some supermarkets are even offering gratis groceries. What's next? Complimentary awesome superpowers for the first 50 customers?
While all the promotional hoopla may be off-putting, I'm happy to report that "The Incredibles" lives up to its title -- and hype -- on DVD. Packaged in a two-disc set, the adventures of Bob, Helen, Dash, Violet and Jack Jack Parr look just as vibrant and exciting on television as they did in theaters. The DVD hit shelves on Tuesday.
In addition to getting a crystal-clear, THX-optimized version of the Academy Award-winning movie -- which, no doubt, your kids will watch at least 250 times -- fans are treated to making-of documentaries, 35 minutes of deleted scenes, two commentary tracks, a new animated short called "Jack-Jack Attack," Easter egg hidden features and more.
While some moments are clearly made for the kiddies -- such as "Incredi-blunders," a series of computer-animation bloopers -- the adults have their own extras to relish, including a droll video essay by "This American Life" commentator Sarah Vowell, who provides the voice of Violet. But my personal favorite has to be "Mr. Incredible & Pals," a "SuperFriends" satire that captures the spirit of the '70s-era cartoon pitch-perfectly (see below).
In the tradition of previous fabulous DVD releases such as "Finding Nemo," Pixar once again delivers a DVD that's bound to become a standard fixture on family room entertainment-center shelves for years to come. After all, even Mr. Incredible occasionally succumbs to an effective marketing campaign.
Most clever bonuses: Gen Xer parents will love the aforementioned "Mr. Incredible & Pals," which stars a younger Mr. Incredible, Frozone and a cuddly, totally unnecessary bunny named Mr. Skipperdoo. A commentary track by Mr. Incredible (Craig T. Nelson) and a disgruntled Frozone (Samuel L. Jackson) adds even more humor to the already amusing parody, located on disc two under the section marked Top Secret. "I sound like a beatnik," Frozone complains after hearing his '70s-era dialogue. Eventually even Mr. Incredible admits the show is lame. "OK," he concedes, "the rabbit bites."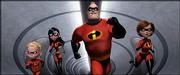 Bonus the kids will want to watch immediately: In "The Incredibles," viewers hear secondhand about incompetent babysitter Kari and her disastrous attempt to watch young Jack Jack. The five-minute cartoon "Jack-Jack Attack" finally reveals what actually happened during those pivotal 24 hours, turning this entertaining short into the equivalent of an extended deleted scene.
Most enriching bonuses: Writer-director Brad Bird spends a few minutes explaining why each of the deleted scenes was deemed extraneous. His insights provide a window into the often-painful editing process, while the omitted plot points (presented in black-and-white, storyboard form) reveal even more about the movie's richly drawn characters. I mean, who knew Helen, aka Elastigirl, had such strong stay-at-home mom issues?
Most boring bonuses: The half-hour "Making of 'The Incredibles'" documentary -- with its glimpses of the creative differences and arguments that took place behind the scenes -- is fun to watch, but the 40-minute "More Making Of," which delves into the nitty-gritty details of filmmaking, often drags. For hardcore fans only.
Copyright 2018 The Lawrence Journal-World. All rights reserved. This material may not be published, broadcast, rewritten or redistributed. We strive to uphold our values for every story published.