After Carmin Ross was found stabbed to death in November 2003, jurors heard Wednesday, her ex-husband had an emotional conversation with a family friend.
Gay Crossley-Brubaker said she was told by Thomas E. Murray, in a breaking voice: "All I see is blood, all the blood."
Police, however, say they hadn't yet told Murray how Ross died.
Crossley-Brubaker's testimony Wednesday was the final link in the prosecution's case against Murray, midway through the third week of a trial that was expected to last four to six weeks.
After prosecutors rested, defense attorneys asked Douglas County District Court Judge Robert Fairchild to dismiss the case against their client, a Kansas State University English professor.
"No reasonable jury could conclude that Mr. Murray is guilty as charged," defense attorney Bob Eye said before the defense team opened its rebuttal.
"Motion denied," Fairchild replied.
Defense attorneys then began to present their case, painting a picture of Murray as a reasonable man who got along well with his ex-wife.
Nancy Hughes, a Kansas University psychology professor and professional mediator, testified for the defense. She said she worked with Ross and Murray on a shared-custody plan that would give both parents equal -- or near-equal -- time with their 6-year-old daughter, Ciara.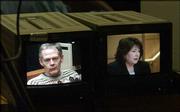 The tone of those sessions was generally positive, Hughes testified, though occasionally strained.
On Nov. 11, 2003 -- days before Ross' body was found at her rural Lawrence home -- the mediation session had "a more tense and frustrated tone," Hughes said, with the couple unable to come to agreement. But Hughes said she considered Murray and Ross "calm people."
Murray's interest in antiques also became a central issue Wednesday.
Crossley-Brubaker said she was surprised to hear that Murray's explanation of his whereabouts on the day of the murder included a drive from Manhattan to a Paxico antique store to look at pillow cases.
"I didn't know Tom was interested in that kind of thing," she said, adding, "I was struck that he would drive that far and not get them."
On cross examination, Crossley-Brubaker admitted she had not asked Murray whether he was interested in antiques and that it was possible she was not aware of his interest.
Defense attorneys showed photos from Murray's Manhattan home and drew jurors' attention to pieces of antique-looking furniture.
Financially, Ross and Murray began splitting their assets in February 2003, said D.C. Hackerott, an investment representative with Edward Jones in Manhattan. Hackerott served as financial adviser for Ross and Murray.
Hackerott said Ross never changed Murray from being the beneficiary of her retirement accounts. She testified that Ross indicated that she wanted to complete a living will before making the change.
"Did you ever tell Tom that she had not changed it?" Eye asked Hackerott.
"No," she replied.
The defense resumes presenting its case today.
-- Staff writer Dave Ranney contributed to this report.
Copyright 2017 The Lawrence Journal-World. All rights reserved. This material may not be published, broadcast, rewritten or redistributed. We strive to uphold our values for every story published.