Oranjestad, Aruba — As the mystery of a missing Alabama honors student drags on, questions abound about Aruban authorities' handling of the Dutch Caribbean island's highest-profile case in decades.
Why were the young men last seen with 18-year-old Natalee Holloway left free for days after she disappeared May 30, the last day of a five-day high school graduation trip with 124 other students?
Why did police wait 16 days after she went missing before searching the home of the Dutch youth who was flirting with her? Why did Aruban officials ask the FBI to send divers, who came to the island but never searched its waters?
Criminal experts say these apparent mishaps could make it harder for Aruban investigators to crack the case and may ultimately prevent the Holloway family from ever knowing what happened.
Atty. Gen. Caren Janssen refused to comment on the criticisms, saying only: "I can't comment on the investigation until it's over. Investigators must be allowed to do their jobs."
Joran van der Sloot, 17, and Surinamese brothers Deepak Kalpoe, 21, and Satish Kalpoe, 18, were the last ones seen with Holloway, an honors student from Mountain Brook, Ala. Her passport and packed bags were found in her room.
After a night of eating, drinking and dancing at Carlos' N' Charlie's restaurant, the three men told police they took Holloway to a northern beach before dropping her off at her hotel around 2 a.m.
The three were questioned soon after she disappeared but were not arrested until June 9. At the time, Janssen said there were "tactical reasons," and there was speculation authorities hoped the freed young men might lead them to a clue.
That was an error, according to Joseph Pollini, a criminal justice professor at John Jay College in New York, where he spent 33 years as a homicide detective.
"Once released, it's problematic because somebody surely coached them," he said. "A lawyer wouldn't be worth his weight in salt if he didn't tell them simply not to say anything."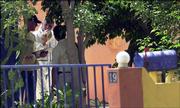 Pollini doubted any confession was now possible.
Instead, authorities arrested two former hotel security guards, apparently because the young men told police they had last seen Holloway in the car park of her hotel, being approached by a black security guard.
The guards, both black, were released a week later, and one, Antonius "Mickey" John, said that while in jail one of the brothers told him they had never taken Holloway back to her hotel but had dropped her off together with van der Sloot at a beach neighboring the Marriott Hotel.
Investigators led a massive and fruitless search of Malmok beach June 14.
Only the following day, 16 days after Holloway went missing, did investigators search the van der Sloot house, seizing two vehicles, computers and cameras.
"They should have immediately done a forensic sweep of van der Sloot's house, his car, his clothing, and done the same with the Surinamese boys," said Ron Watson, a retired Alabama police chief who runs a crime scene reconstruction business. "You've got 48 hours after a disappearance, after that you are in the red zone and may never find the person."
Police did not interrogate the Dutch suspect's father, Paul van der Sloot, until June 17. In a surprise move, they arrested him Thursday.
A court appearance was set Saturday for the father, who is a judge-in-training on the island.
Copyright 2018 The Associated Press. All rights reserved. This material may not be published, broadcast, rewritten or redistributed. We strive to uphold our values for every story published.