Leadership Lawrence isn't simply a chance to learn about the city, make a few contacts and take some time away from work.
It's an experience and commitment that pays dividends for years to come - both in business and public service, Steve Glass said.
He should know. Glass was among 13 graduates of the program's inaugural class, a group that included future property developers, biotechnology investors, bank presidents, real estate leaders, arts executives and a school district administrator.
"They're sticking around and they're all, in their own way, very active in the community," said Glass, president of LRM Industries. "The joke we make is that Wint (Winter) didn't actually graduate with our class - he was appointed state senator before the class sessions were over. He was a dropout.
"It was a great class, and I think it was a great learning experience for all of us. They are people who have definitely gone on to make a difference."
And they're only the beginning.
Since that start 22 years ago, 427 people have graduated from the leadership program, which is operated by Lawrence Chamber of Commerce to inspire and strengthen leadership in the Lawrence community.
Perhaps it's no surprise, then, that 356 alumni - or five out of every six graduates - continue to live, work and volunteer in the Lawrence area, said Al Hack, a co-owner of CEK Insurance. He graduated from the program in 1988.
"These are people who are committed to this community," said Hack, who moved to town as a 1-year-old in 1951. "I mean, it's Leadership Lawrence. It's not Leadership Canada or something else."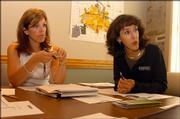 Chamber officials are accepting applications for next year's class. Completed forms are due Aug. 2.
Eight classes, eight months
The eight-month program will assemble up to 25 participants for a focused curriculum set to expose them to businesses, issues, programs and challenges facing the Lawrence area.
Doug Gaston, a 1994 graduate, recalls one behind-the-scenes site visit that helped him understand the value of experience, commitment and longevity. He and fellow class members dropped by Reuter Organ Co., and watched as workers bent wood, carved keys and formed pipes to make musical instruments for distribution throughout the world.
"They do it all by hand," said Gaston, now vice president for mortgage lending at Douglas County Bank. "And there, you aren't anybody until you've been there 20 years. They all have 30, 40 years of experience.
"It's a house full of craftsmen."
Nowadays, Leadership Lawrence classes also provide a focus on specific leadership skills: how to run a meeting, be an effective public speaker, build consensus and set goals.
It all begins with a two-day retreat in September and continues with one-day seminars, once a month, through April. Tuition is $1,000, a cost often covered all or in part by a person's employer. Full and partial scholarships are available.
How to apply
Applications to join the Leadership Lawrence class of 2006 are due by 5 p.m. Aug. 2 at the chamber office, 734 Vt.
To download an application form, go to www.lawrencechamber.com/ leadership and follow the links. Forms also are available at the chamber office.
For more information, check out the program's Web site at www.lawrencechamber.com/ leadership or call Nancy Longhurst, executive director, at 865-4421.
"It is an investment," said Nancy Longhurst, the program's executive director.
Diverse approach
The program seeks a diverse group of participants with regard to employment, occupation, age, ethnicity, culture and perspectives, Longhurst said. Class participants engage in conversations about the past, present and future of the community, and a variety of opinions offers its own consensus-building exercise.
"It makes the class stronger," said Longhurst, a 1988 program graduate.
Maley Wilkins, a 2000 graduate, said the class helped her hone her leadership skills. She enrolled in the class after serving four years on the Lawrence school board, a term that had been marked by intense debates about proposed school closings and other contentious issues.
"Nobody voted for what I wanted," Wilkins said of her term in elective office. "I could've used a little of that Leadership Lawrence before."
Now, after her promotion earlier this year to community president for Peoples Bank, Wilkins is busy putting her new networking, teamwork and consensus-building skills to work.
She's hopeful another group of willing leaders will step up for the 2006 Leadership Lawrence class.
"It's worth it, without a doubt," Wilkins said.
Copyright 2018 The Lawrence Journal-World. All rights reserved. This material may not be published, broadcast, rewritten or redistributed. We strive to uphold our values for every story published.