Take it from Lawrence resident Amy Sneegas: Green doesn't always mean go.
Sneegas said Lawrence pedestrians would be much safer if motorists would learn that simple lesson.
"On the side streets you always have people who turn right while you are in the crosswalk," said Sneegas, who walks about the city daily. "Just because you have the green light doesn't mean you can do that. There's lots of driver education that needs to be done."
And soon there may be a group to do it. Members of the city's Traffic Safety Commission are working to form a new pedestrian safety committee that would increase public awareness and be a champion for transforming Lawrence into a walker-friendly city.
Carol Bowen, a member of the Traffic Safety Commission who is working with fellow commissioner Danny Drungilas to form the new group, said there is much work to be done.
"The concern is that pedestrians are almost extinct because they don't feel safe," Bowen said.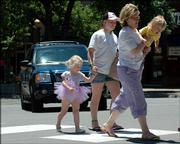 Bowen said it was easy to see why. She said several high-volume intersections - such as 23rd and Louisiana streets - for years did not have marked crosswalks. Many busy streets also do not have sidewalks on both sides. Other intersections around town have dangerous obstacles such as telephone poles directly in the lines of sight for pedestrians and drivers.
"If you look at some of the older intersections, they are really bad," Bowen said. "You'll notice a lot of pedestrians tend to run across the street because that is the only way they feel safe."
About 30 times per year, they don't make it across unscathed. According to data compiled for the Traffic Safety Commission, there has been an annual average of 31 vehicle accidents involving pedestrians during the past six years. The accident numbers have not shown a clear upward trend, but Traffic Safety Engineer David Woosley said the numbers were still troubling because in such an accident "the pedestrian is never going to win."
This year there has been one pedestrian fatality. Jodie Hatzenbihler, a 25-year old Olathe resident, was struck and killed by a driver in the 2500 block of West Sixth Street in April.
Bowen said she hoped the new group would do for pedestrians what the city's Bicycle Advisory Board has done for bicyclists. She said that would mean both public education for drivers and pedestrians, and be a voice in influencing the design of pedestrian areas so visibility and other safety issues are emphasized.
The city has stepped up its efforts to make Lawrence more pedestrian-friendly in recent years. More traffic signals include electronic displays that show how many seconds a pedestrian has to cross the street before the light changes. The city also has installed several pedestrian islands on Louisiana Street in an effort to give walkers a safe place to stop in the middle of the street while waiting for a safe gap in traffic.
Results have been mixed. Sneegas said even though she walks along Louisiana Street regularly, she doesn't use the small concrete islands.
"I would never stand on one of those," Sneegas said. "I don't even feel safe driving around them."
But several pedestrians said they felt the city was good for walking.
"I think people are really good about stopping, even if you are crossing in the middle of the road," said Brandis Carlton, who was walking downtown with her 4-year old daughter, Brensley. "Even the college kids with their music turned up loud are pretty good."
Shirley Knollenberg regularly crosses 23rd Street for trips to Walgreens and other stores. She said it occasionally got "a little scary."
"You have to cross at a light on this road," Knollenberg said. "If you don't, there's no telling what will happen."
Safety tips
There are several ways that pedestrians can improve their own safety when walking in high-traffic areas. Here are some tips:
¢ Walk on sidewalks. If sidewalks are not available, walk on the edge of the road or on the left shoulder of the road, facing the traffic flow.
¢ Cross at marked crosswalks or intersections.
¢ Look left, right and then left again for traffic. And always obey traffic signals.
¢ See and be seen by staying out of a driver's blind spot, wear bright colors or reflective clothing when walking at night, and make eye contact with drivers when crossing a busy street.
¢ Don't walk in busy areas if you have been drinking alcohol.
- Source: Washington State Department of Transportation.
Accident stats
Here's a look at the number of area traffic accidents that have involved pedestrians during the past six years:
2004: 31
2003: 43
2002: 23
2001: 29
2000: 35
1999: 27
- Source: Traffic Safety Commission
Copyright 2018 The Lawrence Journal-World. All rights reserved. This material may not be published, broadcast, rewritten or redistributed. We strive to uphold our values for every story published.