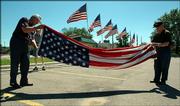 Flags waving in time to music.
That's what Joan Golden hopes to see tonight at the Lawrence City Band concert.
"I think it should bring a few chills up my spine," said Golden, a senior vice president for US Bank in Lawrence.
Flag Day was Tuesday. But for those still in the mood to celebrate, US Bank employees will hand out 1,200 flags to audience members at the 8 p.m. band concert in South Park, 11th and Massachusetts streets.
The concert will feature music involving the U.S. flag because the date is close to Flag Day. Flag Day was officially established on May 30, 1916, by proclamation of President Woodrow Wilson.
People involved with the band approached US Bank about purchasing the flags. Golden said she thought it was a good idea.
"I grew up with a city band playing concerts in the park in the summertime, and I always have good feelings thinking about it," she said. "I'm so pleased that this type of tradition continues in Lawrence."
Some in Lawrence honored Old Glory on Tuesday by putting up flags. One of those groups included American Legion Post No. 14, 3408 W. Sixth St.
The Legionnaires put up 50 flags outside their building. The large flags, donated by families of veterans, were hoisted up 20-feet-tall poles.
American Legion member Kenneth Fisher said it has become a tradition to put up the flags on Flag Day, the Fourth of July and Veterans Day.
"We are continuously doing things that are patriotic," Fisher said. "We do this as a patriotic act and to give respect to our flag. With the way the wind is blowing, they can really spread out."
Fisher said the Legion also puts up 300 flags on Memorial Day.
Band concert lineup
In honor of Flag Day, the Lawrence City Band's concert tonight will feature music involving the national emblem and the music of John Philip Sousa. Here's the line up:
¢ "The Star-Spangled Banner"
¢ "National Emblem" by E.E. Bagley
¢ "Esprit de Corps" by Robert Jager
¢ "Tribute to Stephen Foster" arranged by Sammy Nestico
¢ "Easter Monday on the White House Lawn" by Sousa
¢ "Fairest of the Fair" by Sousa
¢ "Songs of Grace and Songs of Glory" by Sousa
¢ "With Pleasure" by Sousa
¢ "Hail to the Spirit of Liberty" by Sousa
¢ "You're a Grand Old Flag" by George M. Cohan
¢ "The Stars and Stripes Forever" by Sousa
Copyright 2018 The Lawrence Journal-World. All rights reserved. This material may not be published, broadcast, rewritten or redistributed. We strive to uphold our values for every story published.