Unattended death leads to evacuation
Lawrence Police are investigating the death of a man found at an apartment complex Tuesday morning.
Managers of the Meadowbrook Apartments, UU Brittany Place, called police to check on a resident who had not been seen for days and had not paid his rent for the month of June.
Police arrived at the scene at 8:04 a.m. and entered the apartment with the assistance of a complex employee. They found the body of a man and a handmade sign that said hazardous chemicals might be present, said Lawrence Police Capt. Dave Cobb.
The sign prompted police to call the Lawrence-Douglas County Fire & Medical Hazardous Materials Unit and evacuate the building.
Cobb said no chemicals were found on the scene. An unattended death investigation is under way. There was no indication of foul play, Cobb said.
"An autopsy is planned to determine the cause of death and to identify the body," he said.
Police
Teen faces charges for vomiting on teacher
Olathe - A high school student who vomited on his Spanish teacher has been charged with battery against a school official.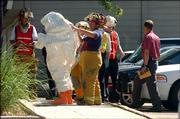 The misdemeanor charge was filed Monday in the juvenile division of Johnson Country District Court against the Olathe Northwest High School student, who turned 17 on June 1. Because he was charged as a juvenile, his name was not released.
His father told The Kansas City Star that the school district expelled his son and recommended that he enroll in an alternative school this fall.
The father said his son told him he didn't mean to throw up on the teacher but had been made uncontrollably ill by the stress of final exams.
Prosecutors claim the act was intentional, and the teacher, David Young, called the act "outrageous."
Suspect pleads guilty in plot to kill witness
Kansas City, Kan. - A Lawrence woman Tuesday pleaded guilty to taking part in a plot to kill a federal witness.
Chaconie Leanna Edwards entered the plea to one count of discharging a firearm to further an act of violence. In the plea she admitted to being involved in the April 29, 2004 shooting of the witness, who has since identified herself to the Journal-World as Tania Atkins, also of Lawrence.
Atkins had cooperated with the Douglas County Drug Enforcement Unit in an investigation that led to a grand jury issuing a four-count indictment on April 1, 2004, against Andre Lamar Ivory on charges of distributing crack cocaine.
Atkins was shot a few days later as she sat in her car at a stop sign near Seventh and Locust streets in North Lawrence.
Edwards faces a maximum penalty of not less than 10 years to life in prison.
Copyright 2018 The Lawrence Journal-World. All rights reserved. This material may not be published, broadcast, rewritten or redistributed. We strive to uphold our values for every story published.