Sharon — Jim Colborn slowly drove his grain-laden semi-truck around the storage bins at the Farmer's Co-op elevator Wednesday as he brought in one of the early loads cut off his 2,000 acres of wheat.
"It's OK," he said. "It's nothing to brag about, but it's all right. Standard."
Still, that assessment is a welcome turnaround from last year's harvest, when tornadoes and hail cut a devastating swath of destruction across thousands of wheat acres in Harper County and nearby areas.
Colborn had 700 acres completely destroyed by hail last year, and much of what was left was barely worth cutting. Some hail-damaged fields brought 7 bushels an acre, and his surviving 2004 crop averaged 22 bushels per acre.
He expects to get closer to 40 bushels an acre this year.
But with the wheat prices, it's hard for Colborn and many other growers to get too excited about an average crop.
Earlier Wednesday morning, Colborn spent $530 to fill the gas tank of the grain truck he was driving. With three grain trucks and two combines running this harvest, he burns nearly 500 gallons of diesel a day.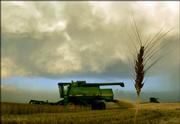 Inside the elevator's office, bookkeeper Sandy Blick said Thursday the first loads started coming into the elevator on Monday.
Custom harvesters are in short supply here, which Blick blames on the high fuel prices. She said at least one cutter who has been coming through here since the 1960s who will not return because of the cost of fuel.
Test weights around Sharon have been running between 59 and 61 pounds per bushel, she said. The industry standard for No. 1 wheat is 60 pounds per bushel or more.
Down the road near Attica, hired man Drew Gerber watched a combine circle a wheat field as he waited at its edge for a full load to take to the elevator.
He figured they have been getting between 35 and 40 bushels an acre, with test weights running about 60 pounds.
"After a year of having nothing, anything is better than that. It is overall looking pretty good," Gerber said.
In Medicine Lodge, Farmers Co-op Equity manager Lloyd Ohl picked up the phone to check on the final wheat price of the day. He shook his head after hearing it was down again to $2.95 a bushel.
"With fuel prices where they are, they need more than $2.95 a bushel," he said.
Test weights here also have been running about 60 pounds per bushel, and he expects to see average to above-average yields in the area.
Copyright 2018 The Associated Press. All rights reserved. This material may not be published, broadcast, rewritten or redistributed. We strive to uphold our values for every story published.