The upcoming murder trial of a former Christian-school trustee will involve pornographic photos, disputed autopsy evidence, and differing interpretations of the victim's muffled screams.
Attorneys held a final pretrial conference Thursday in anticipation of the trial of Martin K. Miller, 46, a carpenter charged with strangling his wife, Mary, last July at their home at 2105 Carolina St. Jury selection begins Monday, and attorneys could reach opening statements as soon as Tuesday in what's expected to be a two-week trial.
Prosecutors allege Miller killed his wife, Mary, so he'd be free to pursue sexual relationships with other women. He'd been having an affair, and he was listing himself on online dating services.
But Miller's defense attorney, Mark Manna, said there's no motive for his client to kill, in part because Miller's wife knew of the affair and knew her husband had a sexual addiction.
"Just because somebody has an affair doesn't make them a murderer," Manna said.
Prosecutors have alleged Miller killed his wife in part because he believed the Lord frowned on divorce. But Manna said it's not true that Miller's associates would have disowned him had the couple divorced.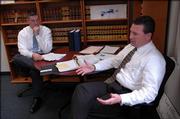 Manna also will argue that, based on a coroner's report, it's possible Mary Miller's death could have been natural. He said some of the typical signs of strangulation were absent.
"I think that there's reasonable doubt that there is a homicide," Manna said.
Miller's son and daughter, both junior high students, will be key witnesses. They testified at a preliminary hearing that they heard their mother scream during the night.
"We're going to let (jurors) know what the children heard in that bedroom," Manna said. "That looks suspicious, but it will be answered, and the way it will be answered will be very reasonable."
Manna declined to elaborate before trial.
The prosecutors, Dist. Atty. Charles Branson and Assistant Dist. Atty. Brandon Jones, have spent the week reviewing testimony with witnesses and reading through hundreds of pages of reports.
Branson said the case was similar in some ways to the recent trial of former Kansas State University professor Thomas E. Murray, who was convicted of murdering his ex-wife, Carmin D. Ross.
"What's challenging in this case is the same as what was challenging in the Murray case," Branson said. "You don't have a smoking gun. You don't have an eyewitness."
Prosecutors will call about 20 witnesses. Manna plans to call six or seven witnesses.
During Thursday's pretrial hearing, Judge Paula Martin ruled that prosecutors will be allowed to show just two of the thousands of pornographic photos found on Martin Miller's computer. She also will allow four of the 90 photos Miller kept of himself on the computer, many of which showed his genitalia.
"I am going to allow four, given the state's theory of his alternative lifestyle," Martin said.
The judge ruled to admit photos from a "commitment ceremony" Miller had with the woman with whom he was having an affair, and she ruled on which autopsy photos of Mary Miller will be shown to jurors.
Key figures in the Martin K. Miller murder trial
Martin K. Miller, defendant Lives in: Lawrence Age: 46 Miller grew up in Lawrence and is the child of well-known 1960s activists. He is a carpenter, a former chairman of the board of Veritas Christian School, and a member of Victory Bible Church. Prosecutors allege he murdered his wife so he'd be free to pursue sexual relationships with other women.
Mary E. Miller, victim Age: 46 Miller was technology coordinator for Watson Library's reference department at Kansas University. She often came into contact with students who needed help using computers to do research for papers.
Charles Branson, district attorney Lives in: Lawrence. Age: 35 Education: Bachelor's, KU, 1993; law degree, KU, 1995. In brief: Branson is in his first term as district attorney after defeating incumbent Christine Kenney in November. He ran on a campaign platform that included a pledge to spend time in court trying cases.
Brandon Jones, assistant district attorney Lives in: Gardner Age: 30 Education: Bachelor's, KU, 1997; law degree, KU, 2000. In brief: Jones was hired as a Douglas County prosecutor in August 2003. Before that, he worked as a Franklin County prosecutor.
Mark Manna, defense attorney Lives in: Lawrence Age: 37 Education: Bachelor's, Washburn University, 1990; law degree, Washburn, 1993. In brief: Manna is a member of the state's death-penalty defense team. Miller does not face the death penalty, but the state recently began asking Douglas County judges to appoint salaried members of the death-penalty team to handle high-level cases instead of paying private attorneys by the hour.
Copyright 2018 The Lawrence Journal-World. All rights reserved. This material may not be published, broadcast, rewritten or redistributed. We strive to uphold our values for every story published.